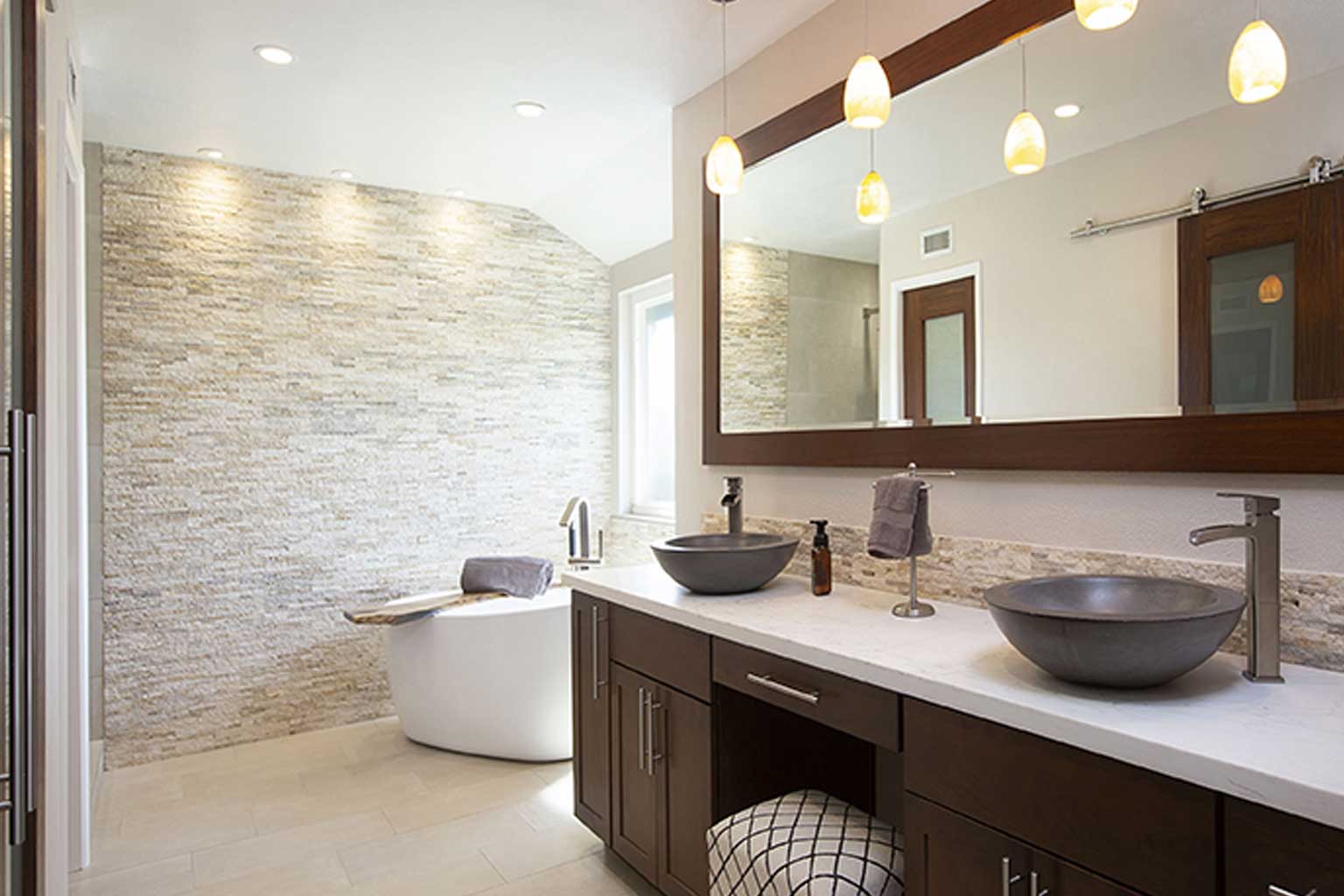 Whether you have an older home that you'd like to modernize or add to with an addition or second story, or perhaps build a new custom home in Tierrasanta, Regal Concepts is the local company we wish you to consider partnering with.
The city of Tierrasanta is a wonderful neighborhood for families, and generations live here.  Originally part of a Marine Corp base, this is an neighborhood we have been privileged to help many people turn there houses into their dream homes.  With its first class school district, and many hiking trails meandering throughout its wooded streets.  It is a highly desirable neighborhood to bring a family up, centrally located it is a perfect place to live.  We thoroughly enjoy our projects in this neighborhood and meeting the wonderful people who live there.
To learn more about this beautiful place to live, we encourage you to visit City of Tierrasanta Web Site. When it comes to planning for a remodeling project or building a new home, there are a lot of things to consider.  At Regal Concepts & Designs, our team of skilled professionals is here to help you create a home that fits your family and your lifestyle. We understand that remodeling and custom home building are big projects, and we'll do our best to make it as fun and stress-free as possible, so that you can come home to a house you love.
At  Regal Concepts & Designs, we want your remodeled or expanded Tierrasanta house, or new Tierrasanta custom home to a perfect combination and reflection of your dreams.
The  picture above shows a beautiful bathroom, with stack stone wall accents around the freestanding tub, the use of accent lighting, highlights the dimensional stone at night, creating a sanctuary to relax and soak in the tub.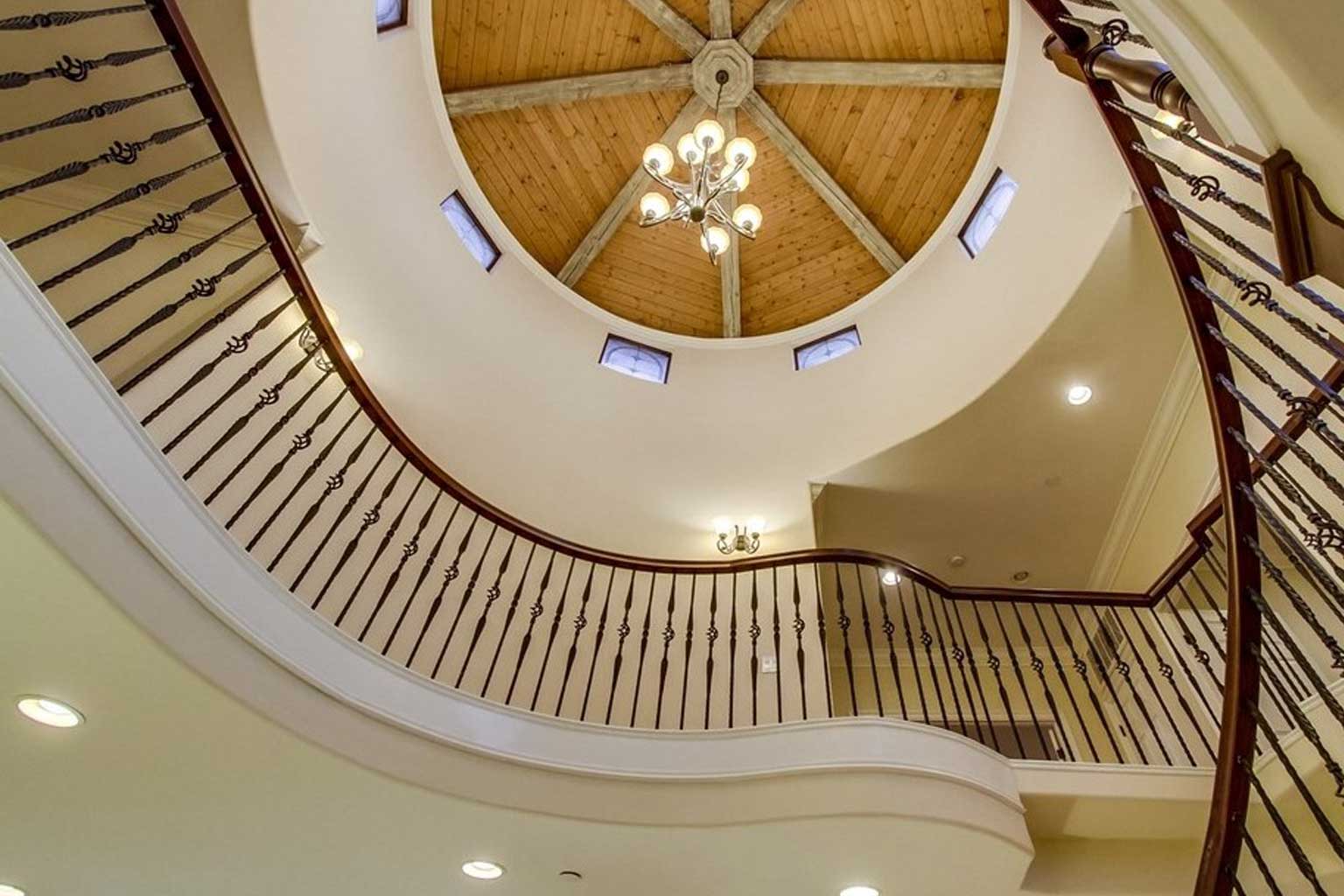 And the picture immediately above shows a beautiful circular staircase, framing a three story architectural beam turret.
We used stained and leaded glass around the turret to capture the morning sun, which creates a stunning effect.
The next picture shows a warm inviting bathroom, with natural stone tiles, custom cabinets and a large soaking tub and walk in shower. The Lapidus counter tops are accented by a basket weave travertine backsplash.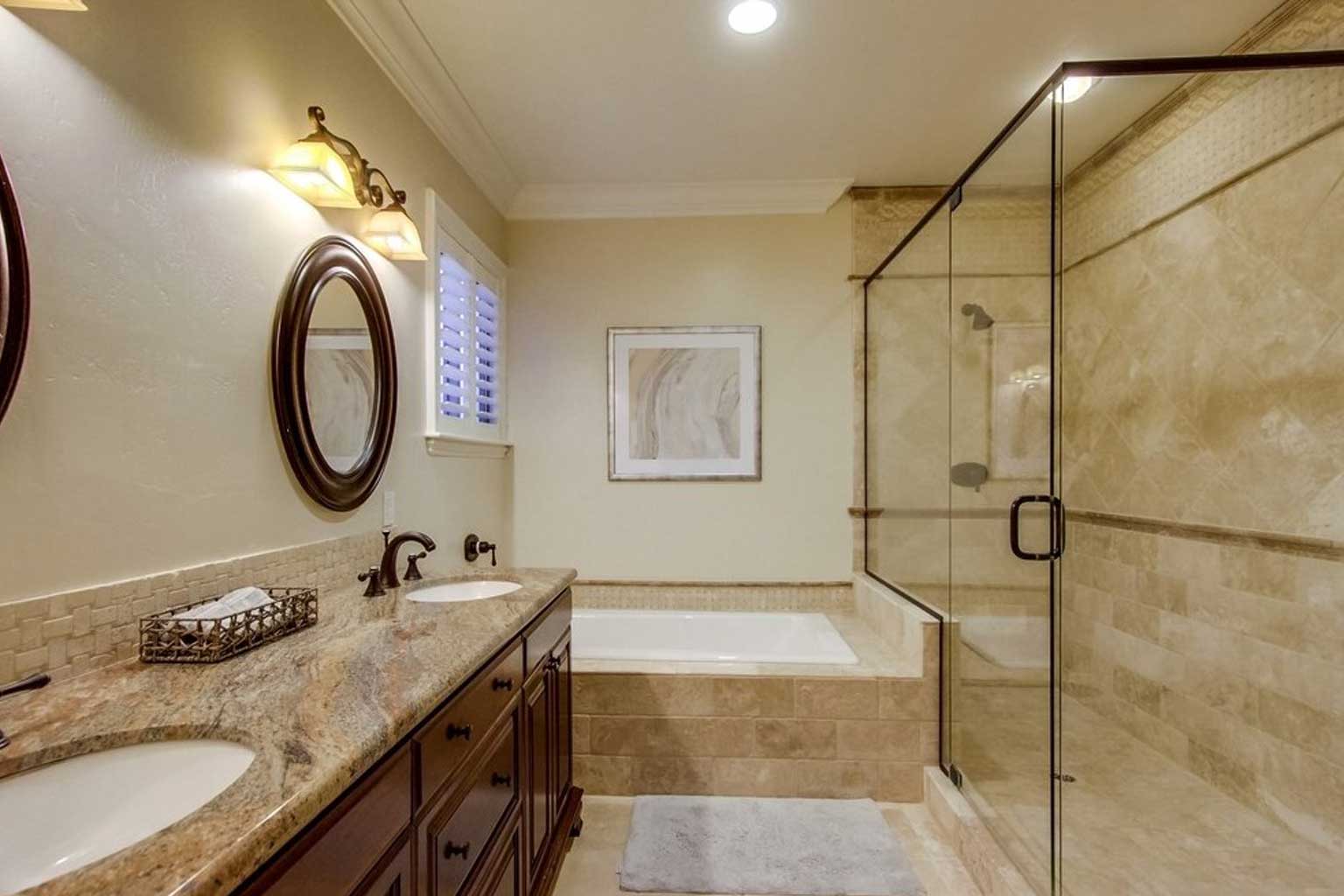 The picture below shows a beautiful cherry rosewood custom cabinets, with a curved breakfast bar, that the family can gather around.  The upper cabinets are brought down onto the counter top to allow for all counter top appliances to stay hidden.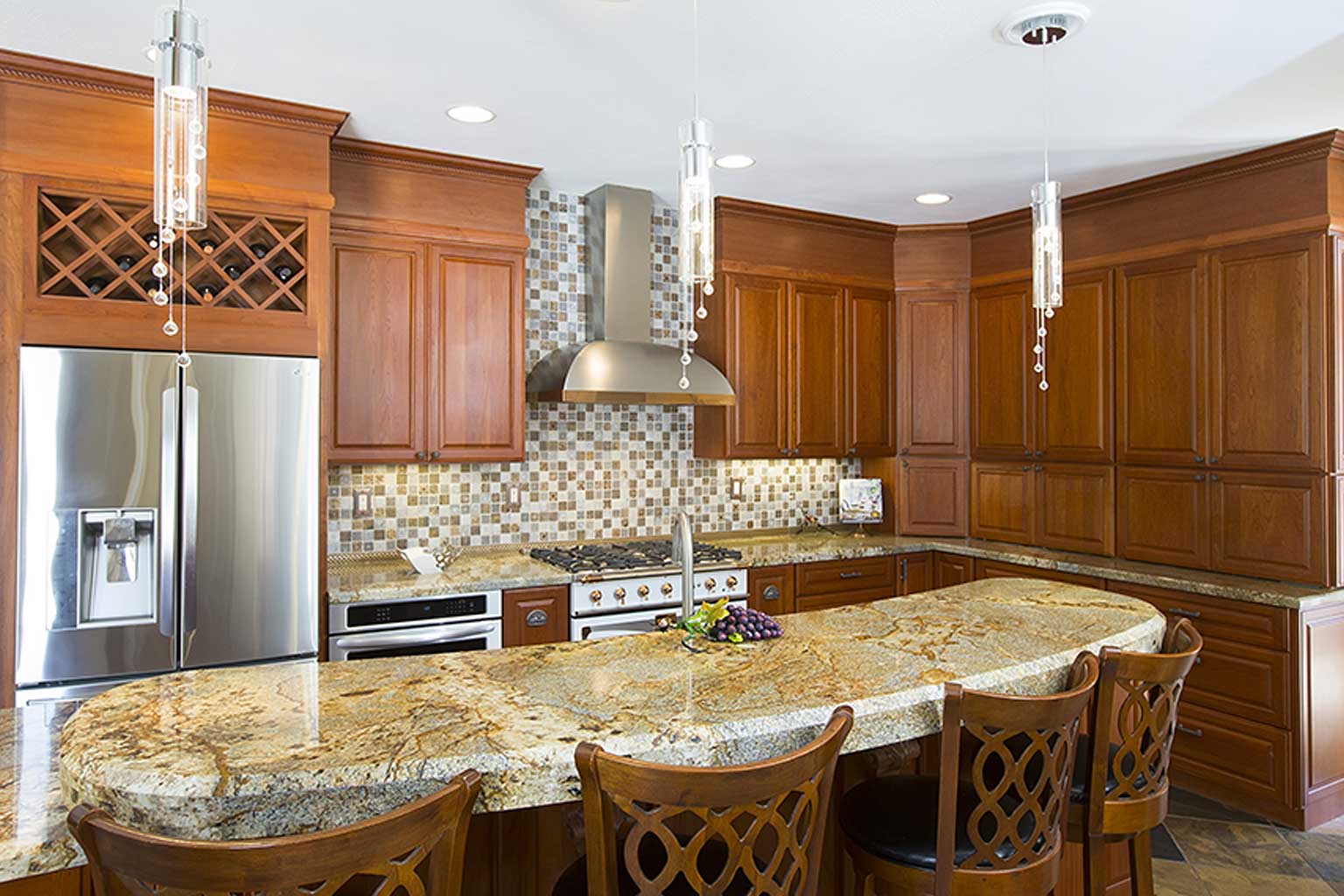 And finally we show a legal white shaker kitchen with quartz counter tops. The arabesque backsplash tile adds a very subtle color to this elegant Kitchen.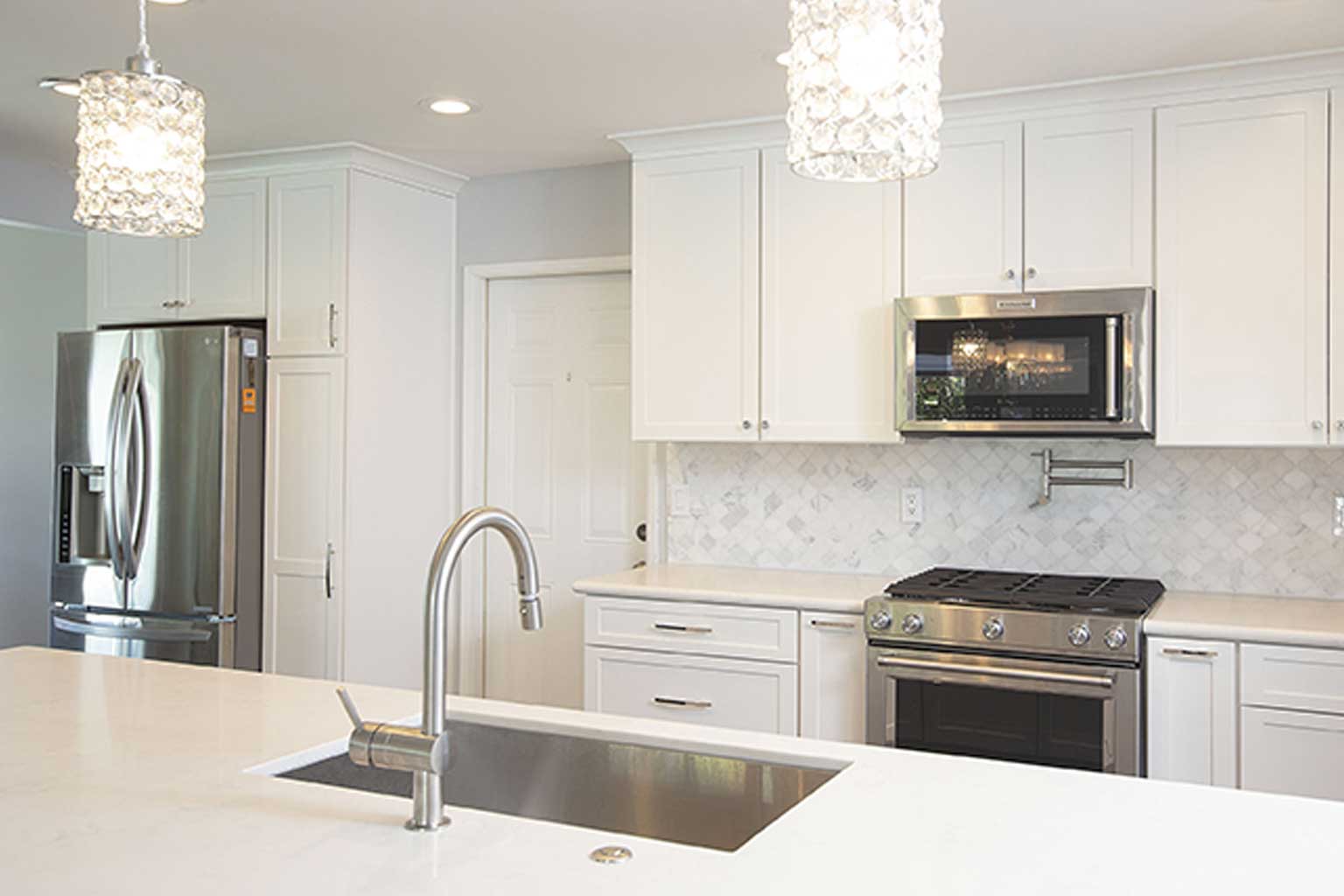 Contact Regal Concepts & Designs
 today so that we can schedule an appointment to help make your Tierrasanta  Remodeling or Tierrasanta New Custom Home Building dreams come true.
We have been completely satisfied with Paul and his crew at Regal Concepts, and recommend them highly to everyone we know. We first met Paul while looking for a contractor to remodel our bathroom and do some needed home repairs, and were immediately impressed with his extensive knowledge of home remodeling and construction. When we decided to undertake a more extensive remodel, we worked with Paul and an architect he recommended to come up with a plan for an interior/exterior remodel that would great improve the functionality and aesthetic appeal of our home, and Paul and his team carried out the remodel. It was a highly interactive process, with constant communication; Paul always responded to our phone calls and emails very quickly, and updated us on a regular basis. We were particularly impressed by how he would present several alternatives for most situations, describing pros and cons and covering a range of budgetary options. We had originally considered hiring an interior designer, but decided that this was unnecessary, due to Paul's excellent eye for design. The quality of the work, and in particular the wood cabinets/moldings and tile, is really outstanding, and whenever we raised a question about something or requested a minor modification, it was quickly addressed. Although we started the project with a focus on the interior remodel, we were so happy with Regal's work that we kept adding projects, including the front porch addition and the stone patio – and then we decided we might as well have Regal repair our falling-apart garage. Detailed price quotes were always provided, and Paul coordinated all permitting with the architect and oversaw meetings with inspectors. The complete project took exactly one year from start to finish; three to four months had been estimated for the initial interior remodel, and that was a fairly accurate estimate. When we tell people we remodeled our home, we often hear horror stories about their experiences with contractors – but that was the opposite of our experience. We can't imagine a better contractor/team than Paul & Regal. Paul and his team were hard-working, extremely pleasant, responsive, skilled, helpful, and honest. You definitely get your money's worth with Paul & Regal, and you will actually enjoy the remodeling experience (at least as much as that's possible!).
Best kitchen in the neighborhood from both a functionality and ascetics standpoint. Paul worked patiently with us to get every detail of the design we wanted, in a relatively small space. Construction went smooth and they were there consistently until the job was done. Renovation was completed in 4 months and we have a FANTASTIC and BEAUTIFUL kitchen we enjoy every day!!!
This is the third project that I've used Paul and his crew for.  Once again the job went as planned and I'm completely satisfied with the work done.  Paul helps with the design and gives helpful suggestions not only to save on costs but also insight in aesthetics.  His crew are on time, respectful and completely professional.
If you have any remodeling job, I would suggest at least a consult with Regal Concepts & Designs.
Reserve your consultation with
Regal Concepts and Designs

About Regal Concepts & Designs
Regal Concepts & Designs is a unique full service construction company, established in 1997. Our principle, Paul Lyttle, has over 23 years of extensive construction experience. Paul was formally trained in Ireland and certified by the City and Guilds of London as a Master Craftsman.
CA Lic. #770699