Whether you have an older home that you'd like to modernize or add to with an addition or second story, or perhaps build a new custom home in Point Loma, Regal Concepts is the local company we wish you to consider partnering with.
West of downtown San Diego, you'll find Point Loma, Harbor Island and Shelter Island, all of which offer great restaurants, activities, a variety of accommodations and stunning views of San Diego's skyline. Here you'll also find a full working marina, with daily sport fishing and seasonal whale watching excursions; Liberty Station, located at the former Naval Training Center, now a thriving arts district with historic architecture, great shops, restaurants and community events; and Sunset Cliffs Park, a seaside park with panoramic views of the Pacific Ocean and stunning cliff rock formations. A wonderful place to live, with unique homes and neighborhoods.
To learn more about this beautiful place to live, we encourage you to visit the city of Point Loma website.
When it comes to planning for a remodeling project or building a new home, there are a lot of things to consider. At Regal Concepts & Designs, our team of skilled professionals is here to help you create a home that fits your family and your lifestyle. We understand that remodeling and custom home building are big projects, and we'll do our best to make it as fun and stress-free as possible, so that you can come home to a house you love.
At  Regal Concepts & Designs, we want your remodeled or expanded Point Loma house, or new Point Loma custom home to a perfect combination and reflection of your dreams.
The picture on the top of this page features a beautiful custom kitchen with white glazed cabinets, huge island that incorporates a sink and wine fridge. The end of the cabinets are embellished with panels and faulted column and heavy carved corbels creating a stunning focal point.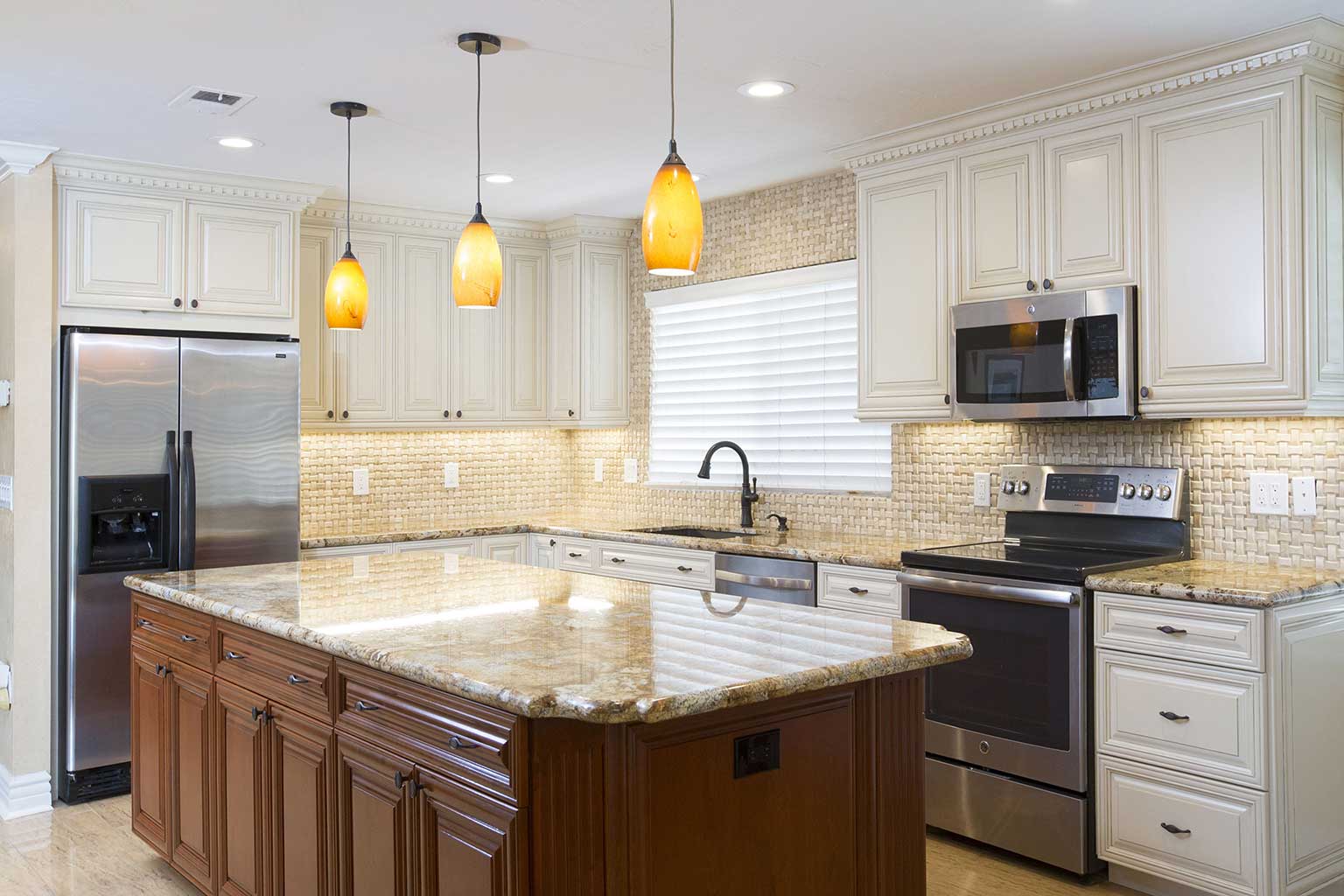 And the picture immediately above shows beautiful custom cabinets in a glazed white finish, we offset the large island color to for a contrast. The Lapidus Granite counter tops are accents by the basket weave dimensional tile. This is a truly stunning Kitchen.
The next picture shows traditional cherry cabinets are paired with granite counter tops and a glass backsplash, the large island features a microwave and fridge along with a vegetable sink. The blue star range, is framed with the custom hand carved inset hood. The beautiful wood color and Carved embellishments make this a classically beautiful kitchen, that is a pleasure to cook family meals in.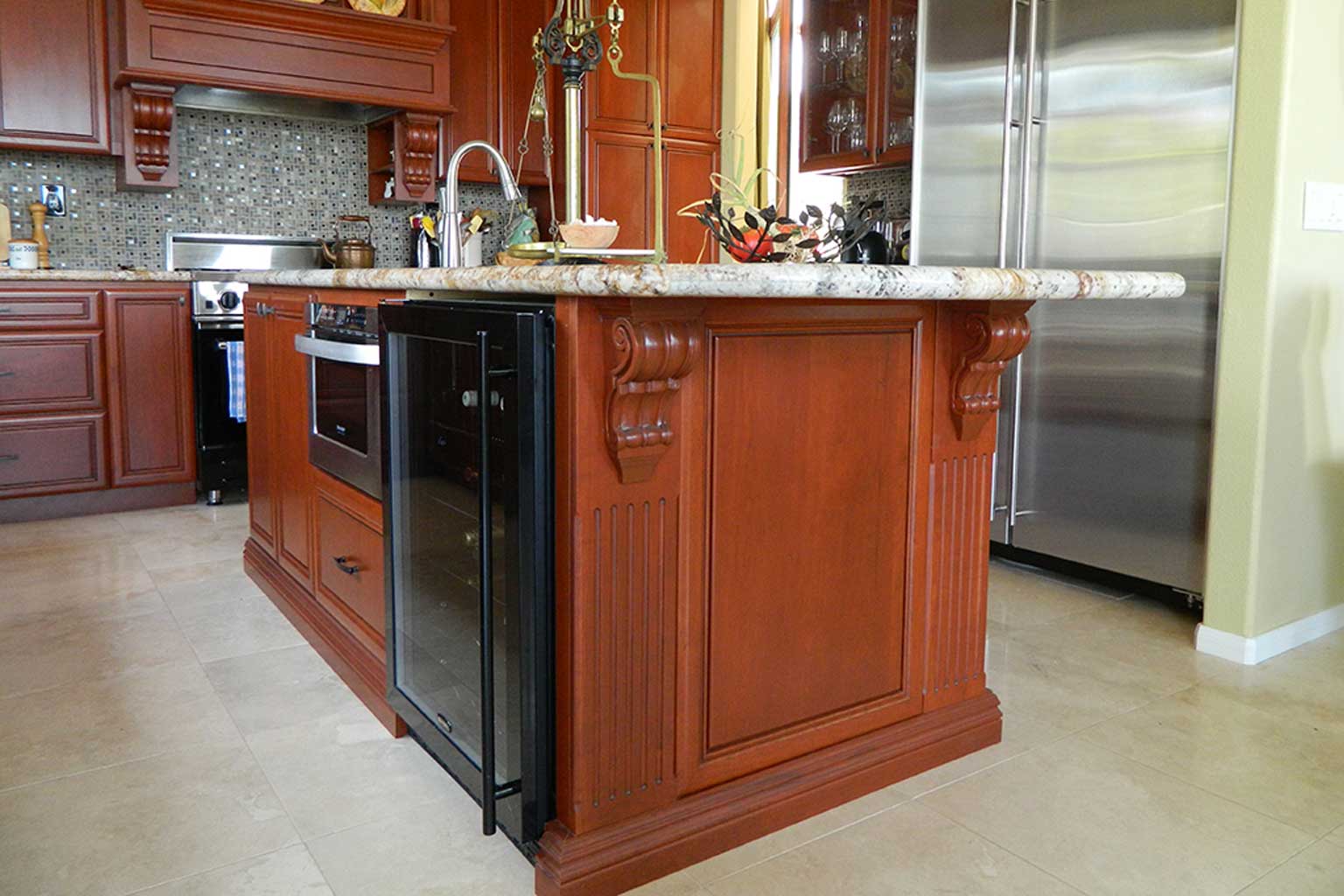 The picture below shows a stunning bathroom, featuring custom glazed cabinets, granite counter tops and Onyx natural stone tile. The upper cabinet adds storage, and detail, the Onyx tile is accented by copper glass tiles. A rain head shower head with a separate adjustable shower head make this elegant bathroom a pleasure to prepare for the day in.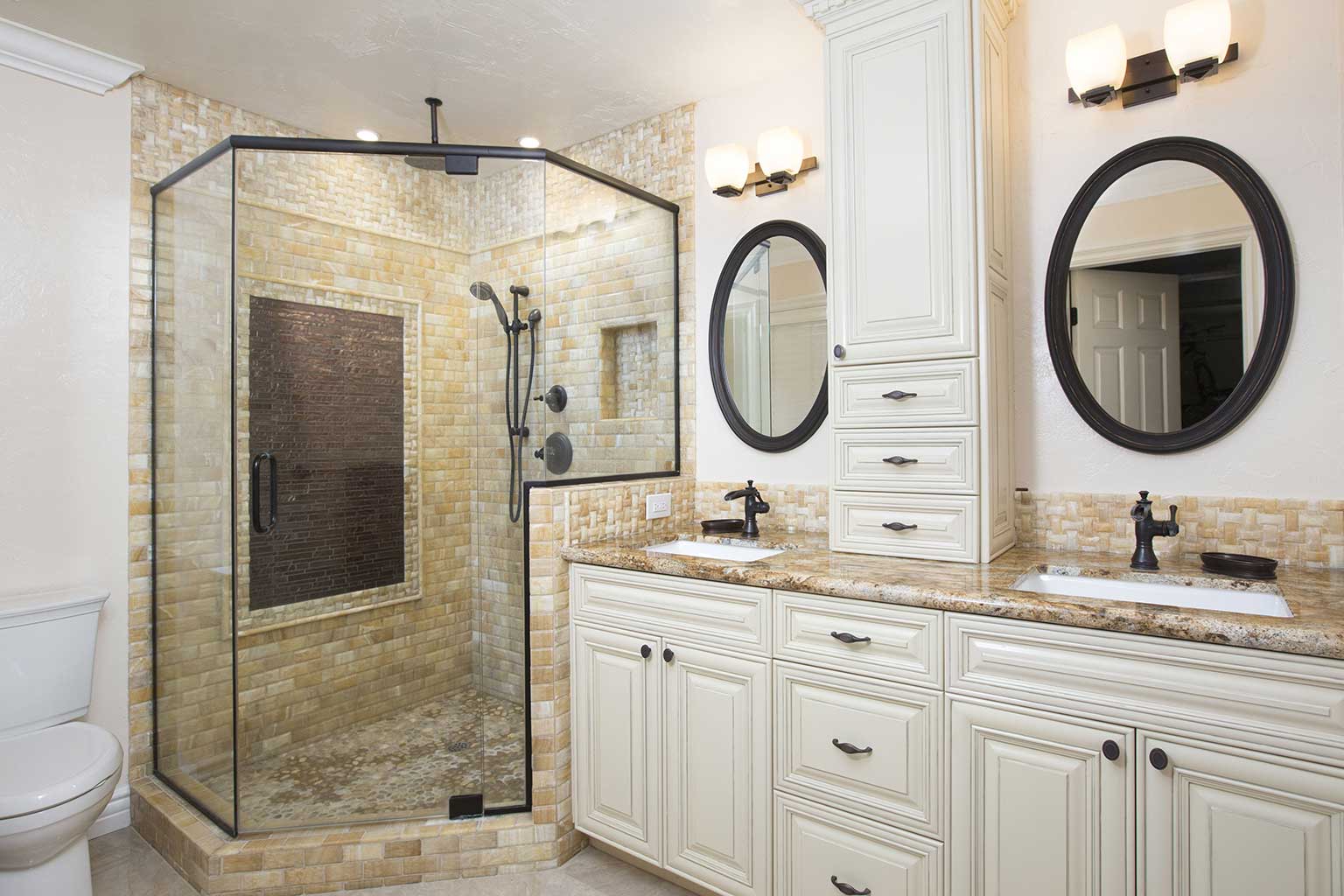 And finally we show a beautiful, warm inviting bathroom, the cherry cabinets flow with the shower tile and accents which are carried around the bathtub surround and fireplace, making this unique bathroom beautiful.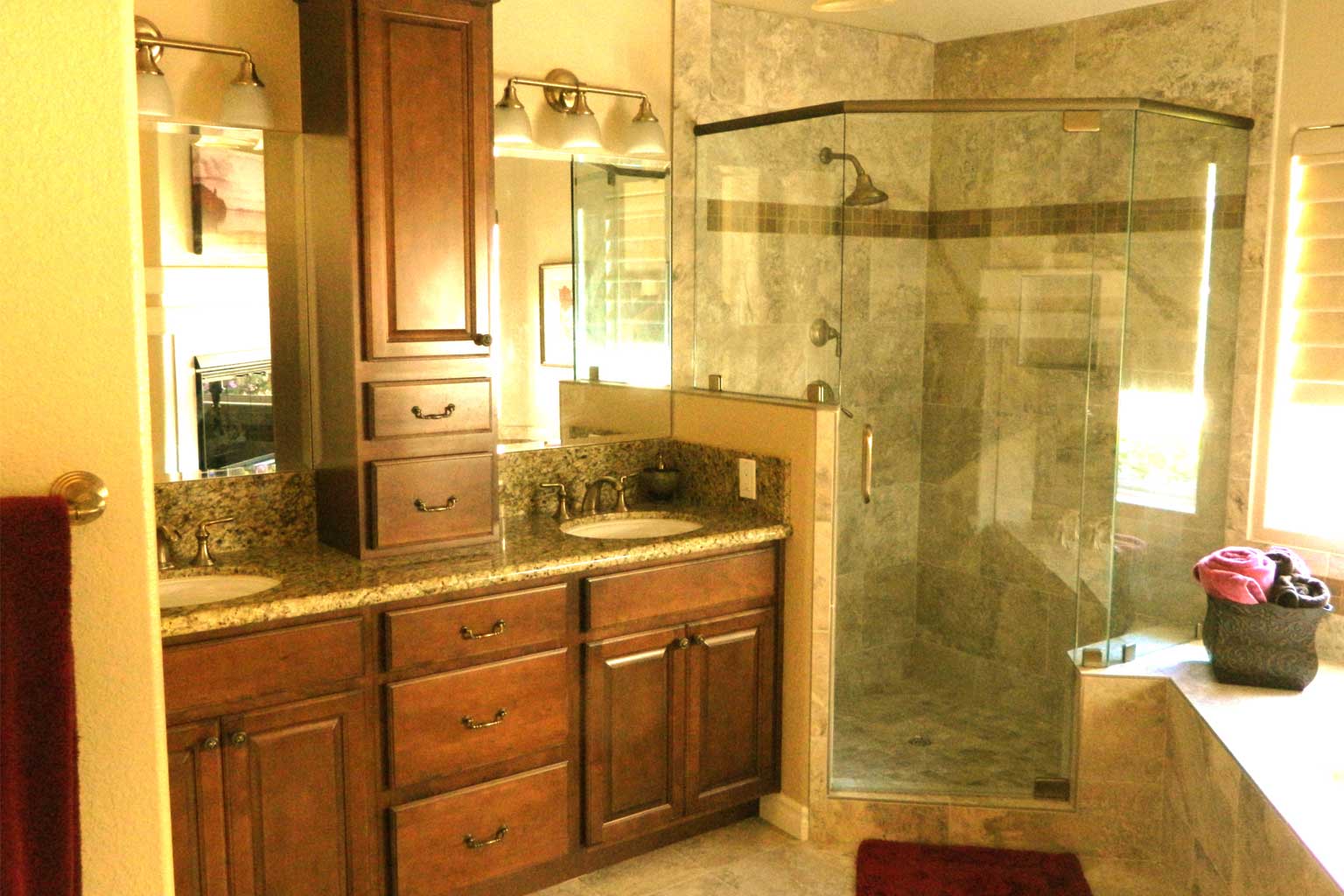 Paul is excellent. He is a Master Craftsman and General Contractor who got his education doing custom bars in Ireland.
He does the wood and cabinetry work himself, and is very picky over the people he uses for the other trades. He did our projects over several years and everything always went perfect. He is very reasonably priced, especially at the quality level of the work. He works with you to make YOU happy, and the designs and materials were always what we wanted the first time.
I would post pictures, but you can look on his website. Many of the pictures there are of our home.
As a final note, I know how to evaluate a contractor's work and pricing. I am responsible for facility management for a 50,000 employee, 3,000 site company and I manage 100's of millions in annual spend on these things. I would never hire anyone in San Diego to remodel a room, or a whole home.
It went extremely well. Paul is a meticulous craftsman and the remodeling included perfect eyebrow archways with encased moldings and columns as room dividers and a relocated, new fireplace. Because of his superior craftsman work, Paul would be classified as the "finisher". Since he is European born and "London Guild" trained, it shows. The architect, with whom he works, is first class. He and his architect tied in a very difficult, exterior design to incorporate the portico with the existing mansard parapet roofing.
Paul's crew was excellent. They worked on our house as if it was their own. They are true professionals. They did no damage and worked diligently through the day. They were on time. They made suggestions to make things more beautiful or easier for us when the job was finished. If we wanted to change something, Paul would give us both sides of the consequences of doing the change.
Reserve your consultation with
Regal Concepts and Designs

About Regal Concepts & Designs
Regal Concepts & Designs is a unique full service construction company, established in 1997. Our principle, Paul Lyttle, has over 23 years of extensive construction experience. Paul was formally trained in Ireland and certified by the City and Guilds of London as a Master Craftsman.
CA Lic. #770699