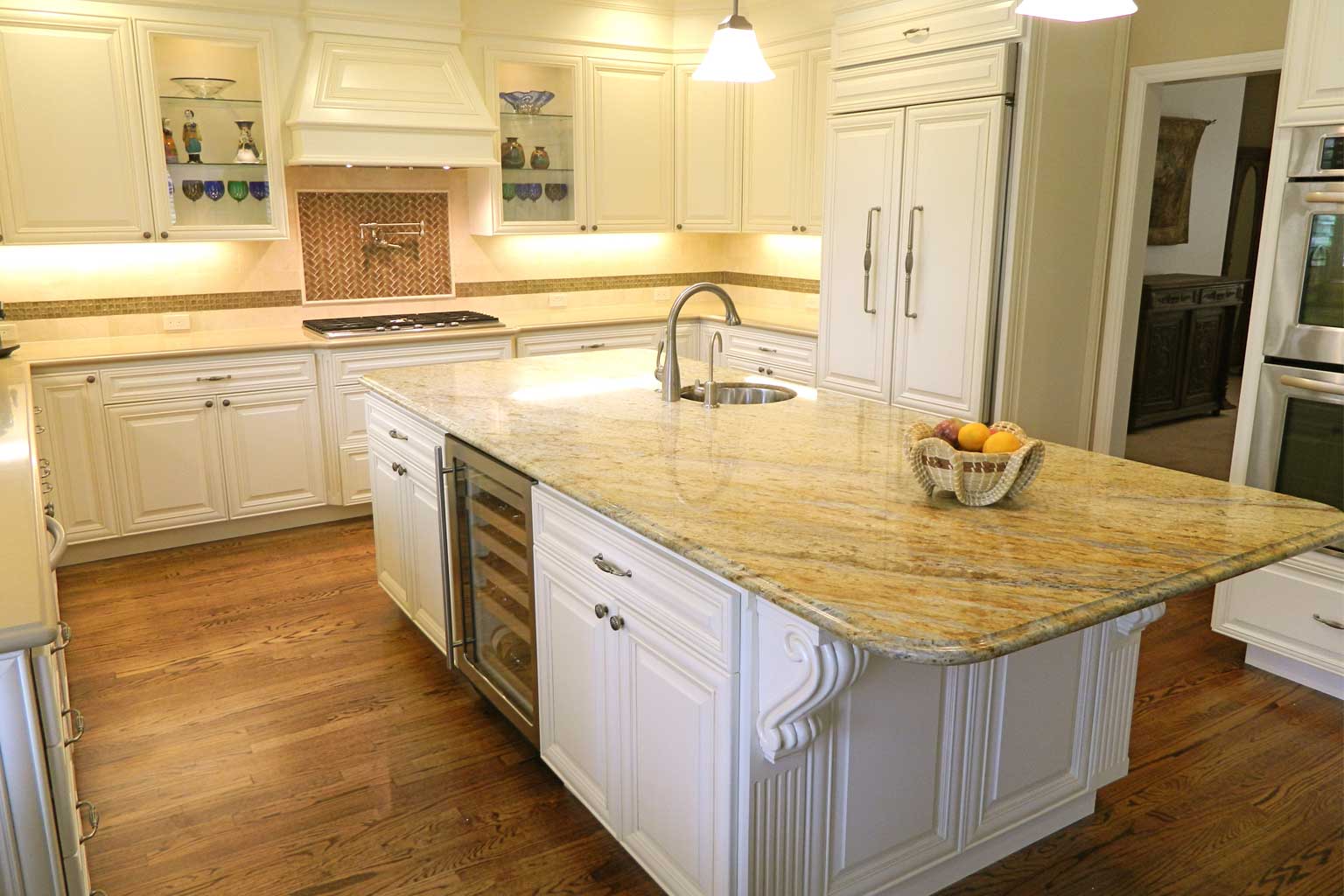 Whether you have an older home that you'd like to modernize or add to with an addition or second story, or perhaps build a new custom home in Poway, Regal Concepts is the local company we wish you to consider partnering with.
The city of Poway is a wonderful neighborhood for families, and generations live here.  As an older neighborhood, we have been privileged to help many people turn there houses into their dream homes.  With its first class school district, and many stores and restaurants  It is a highly desirable neighborhood to bring a family up, centrally located it is a perfect place to live, and we thoroughly enjoy our projects in this neighborhood and meeting the wonderful people who live there.
To learn more about this beautiful place to live, we encourage you to visit the city of Poway website. 
When it comes to planning for a remodeling project or building a new home, there are a lot of things to consider.  At Regal Concepts & Designs, our team of skilled professionals is here to help you create a home that fits your family and your lifestyle. We understand that remodeling and custom home building are big projects, and we'll do our best to make it as fun and stress-free as possible, so that you can come home to a house you love.
At  Regal Concepts & Designs, we want your remodeled or expanded Poway house, or new Poway custom home to a perfect combination and reflection of your dreams.
The picture on the top of this page features a beautiful custom kitchen with white glazed cabinets, huge island that incorporates a sink and wine fridge. The end of the cabinets are embellished with panels and faulted column and heavy carved corbels, That creates a stunning focal point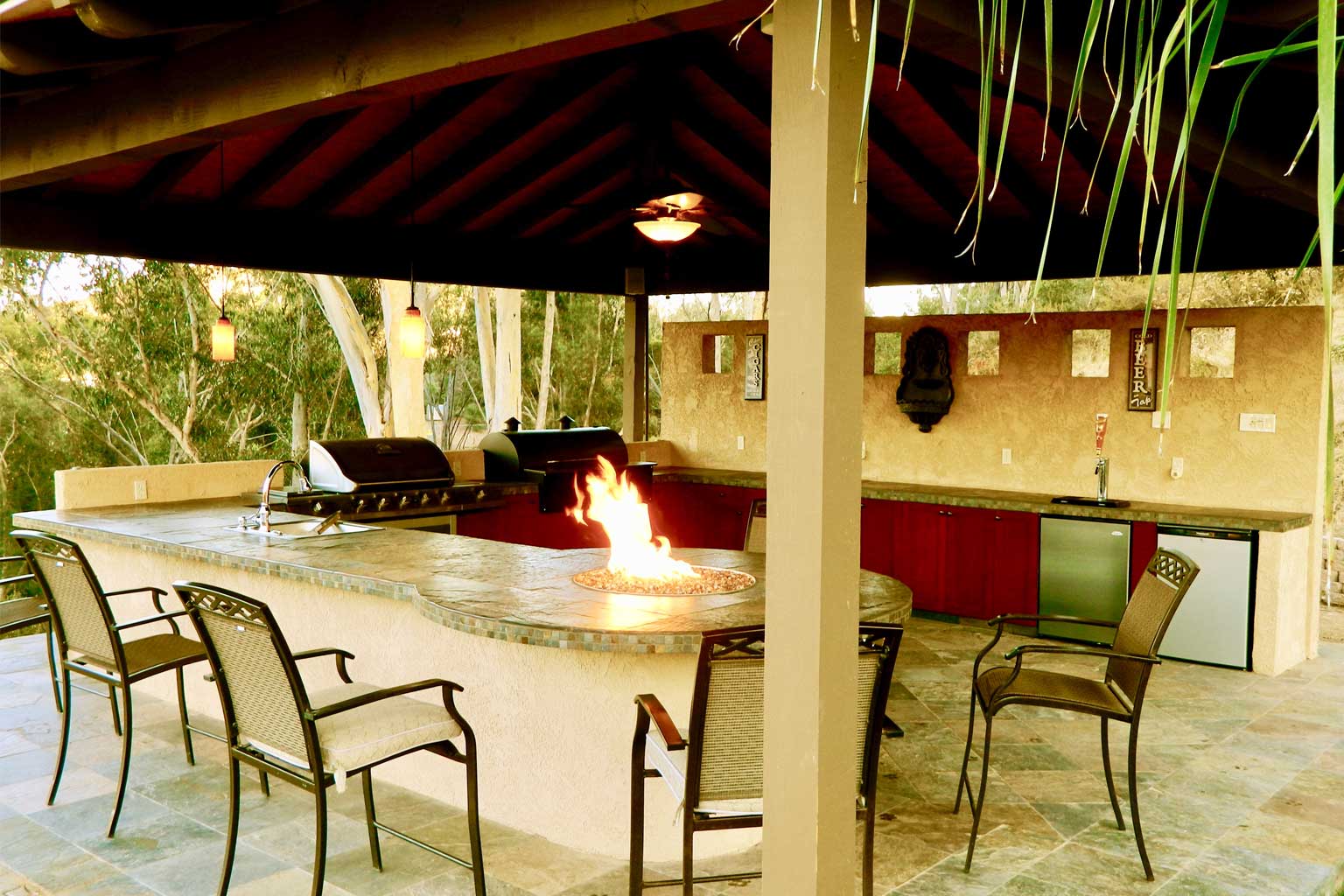 And the picture immediately above shows an amazing outdoor kitchen, that features, two outdoor refrigerators, two BBQ grills, a six seat table with a fire ring. A wonderful way to enjoy our beautiful outdoors and spend time with loved ones.
The next picture shows, an addition that is over 800 square feet, that we opened up their entire front of the house, we added a new fireplace with venetian plaster, new stairs, and a new front office, we added beautiful hand made curved doors to the beautiful front entrances.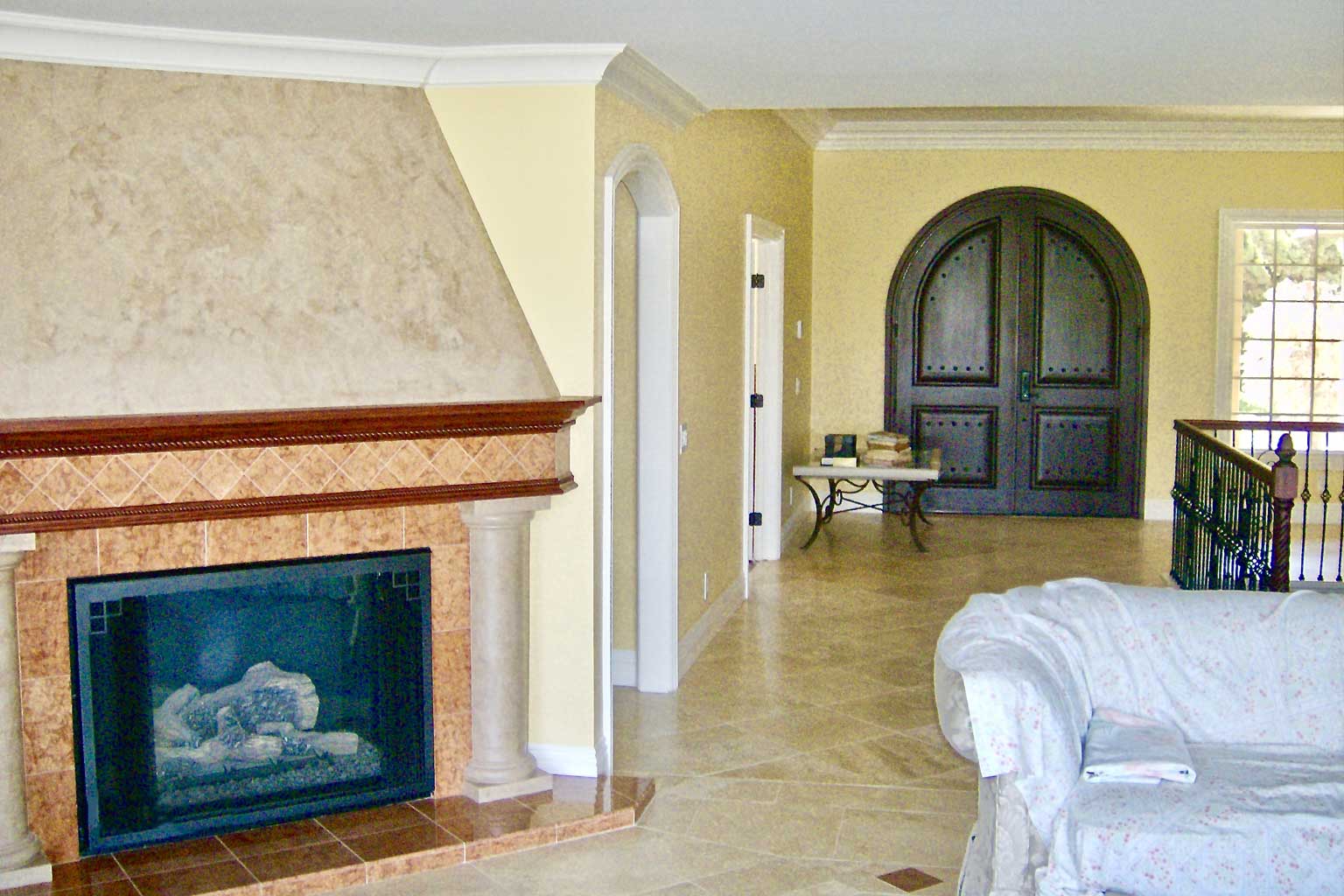 The picture below shows an older home form the 50s that needed some TLC, so we added new stucco, new front entrance, painted the exterior and added new landscaping.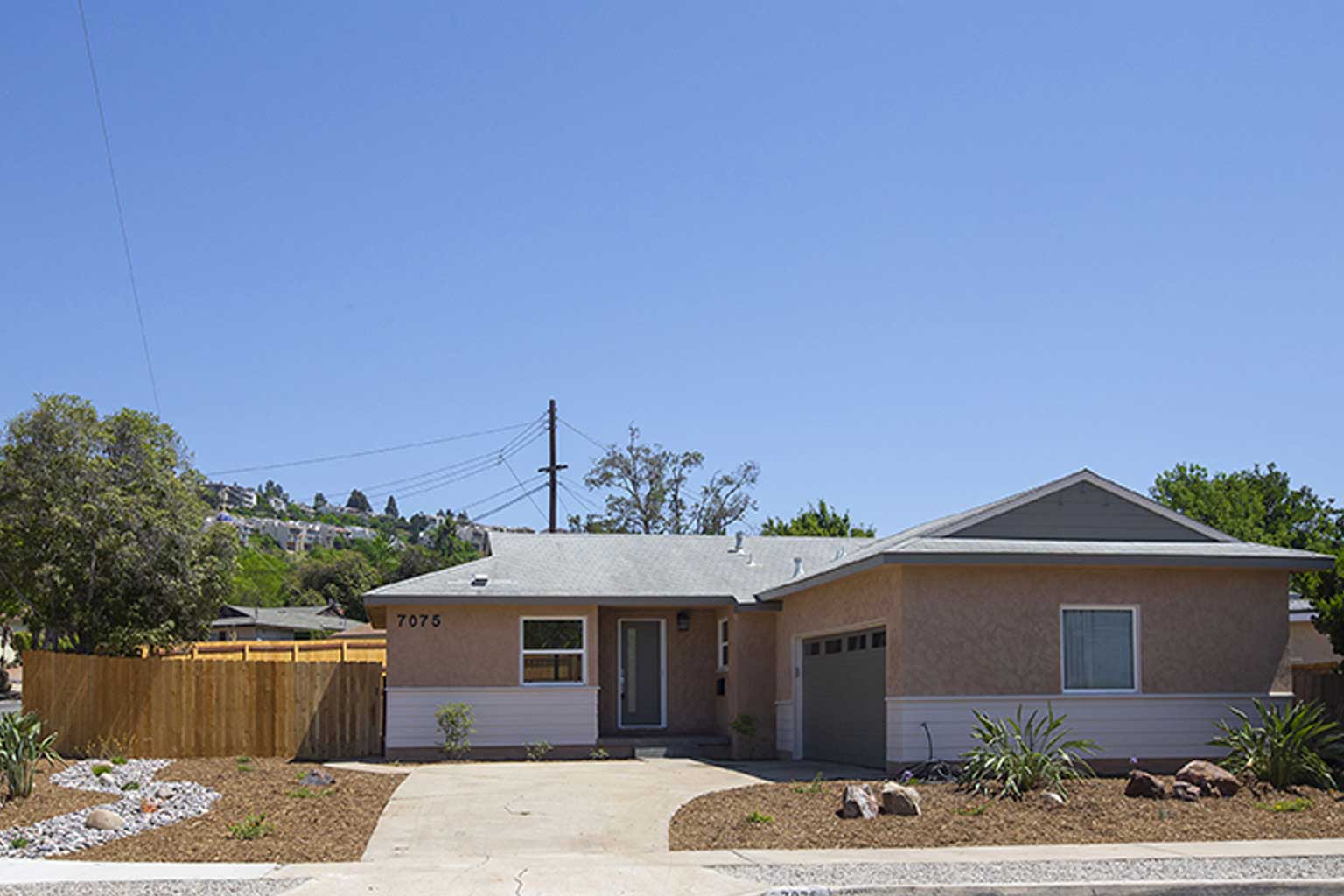 And finally we show the same house as above, this shows the new landscaping, with a drought tolerant plants and we installed a dry stream rock bed.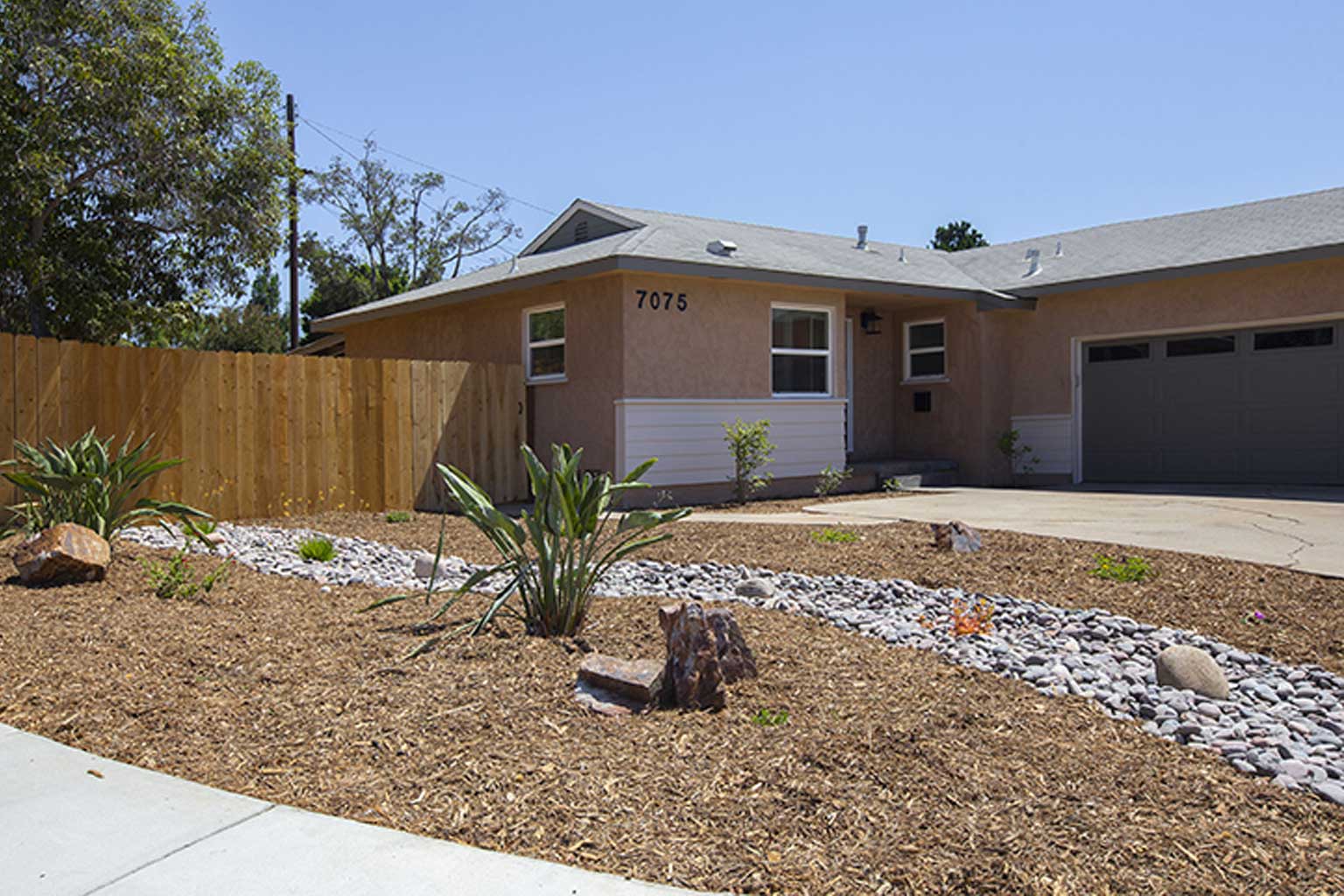 My new kitchen is absolutely beautiful. The work from start to finish has been outstanding in quality and professionalism. I would highly recommend Regal Concepts and Designs!
I thought they did really great work. Its held up well in the last year and a half. We always get compliments every time someone comes over to the house.
Paul and his team were on point!  Easy to deal with, pleasure to work with.  After meeting with six different contractors Paul was the only one that was listing to what I wanted and also thinking outside the box.  He and his crew gave me honest input and helped steer me in the right direction when I would let one of my crazy ideas get the best of me.
Complete kitchen remodel took about 2 months and a week.  Paul was on site everyday, his crew never missed a day.  His companies that he used for the cabinets and granite fabrication were awesome also.  I could continue all day with how pleased I and my family are, but you get the picture.
Reserve your consultation with
Regal Concepts and Designs

About Regal Concepts & Designs
Regal Concepts & Designs is a unique full service construction company, established in 1997. Our principle, Paul Lyttle, has over 23 years of extensive construction experience. Paul was formally trained in Ireland and certified by the City and Guilds of London as a Master Craftsman.
CA Lic. #770699