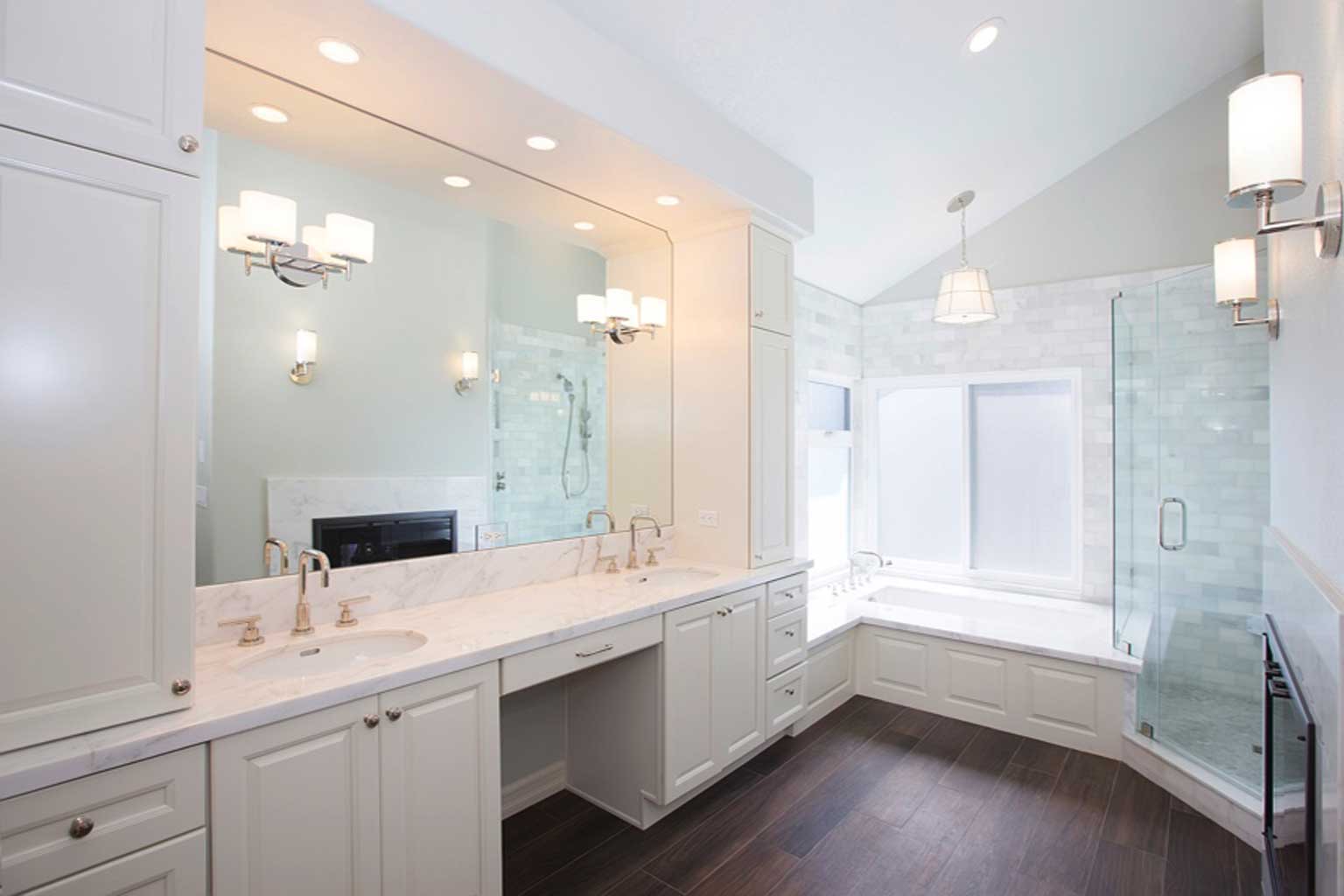 Whether you have an older home that you'd like to modernize or add to with an addition or second story, or perhaps build a new custom home in 4S Ranch, Regal Concepts is the local company we wish you to consider partnering with.
The city of 4S Ranch is a wonderful neighborhood for families, and generations live here.  As a newer community in San Diego, this was originally homesteaded by Spanish settlers from Mission San Diego de Alcala.  4S ranch is an community with many unique homes we have been privileged to help many people turn there houses into their dream homes.  Many hiking trails meandering throughout its wooded streets, It is a highly desirable neighborhood to bring a family up.  Centrally located it is a perfect place to live, and we thoroughly enjoy our projects in this neighborhood and meeting the wonderful people who live there.
To learn more about this beautiful place to live, we encourage you to visit  The 4S Ranch Website.  When  it comes to planning for a remodeling project or building a new home, there are a lot of things to consider.  At Regal Concepts & Designs, our team of skilled professionals is here to help you create a home that fits your family and your lifestyle. We understand that remodeling and custom home building are big projects, and we'll do our best to make it as fun and stress-free as possible, so that you can come home to a house you love.
At  Regal Concepts & Designs, we want your remodeled or expanded 4S Ranch house, or new 4S Ranch custom home to a perfect combination and reflection of your dreams.
The  picture above shows a stunning bathroom, the Calcutta Marble stone, pairs with the custom glazed cabinets for a perfect match.  This bathroom is a calming peaceful sanctuary to escape to and relax in the large soaking tub.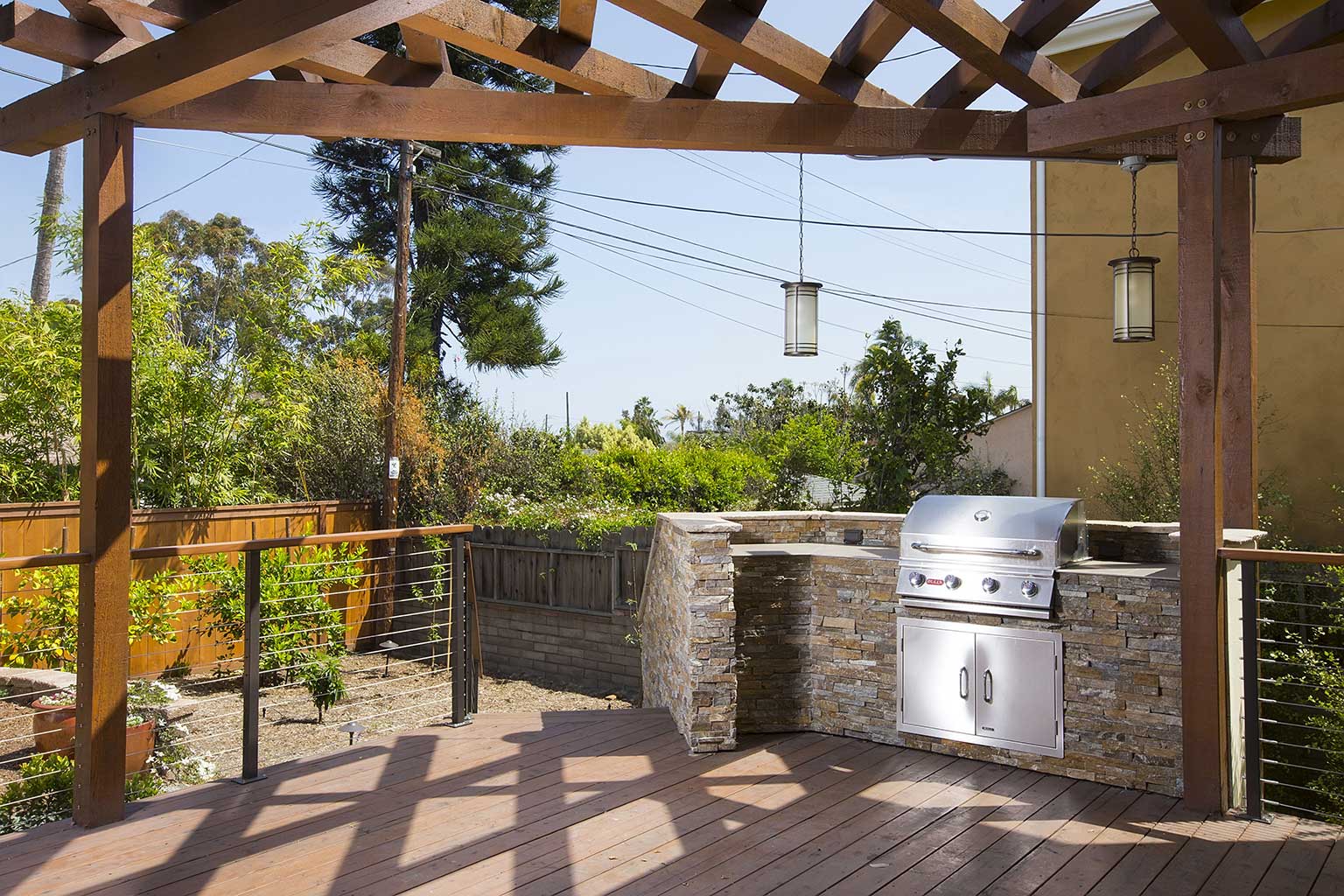 And the picture immediately above shows an spectacular deck, that features architectural beams, and masonry accents.
This large outdoor living space is perfect for entertaining your guests, or just sitting in peace and enjoying the bark yard.
The next picture shows very unique curved staircase and three story turret. This grand entrance has stained and leaded glass all around, that creates a beautiful reflected lights once the sun comes up.  The wrought iron railings are a perfect compliment to the cherry railings on the stairs.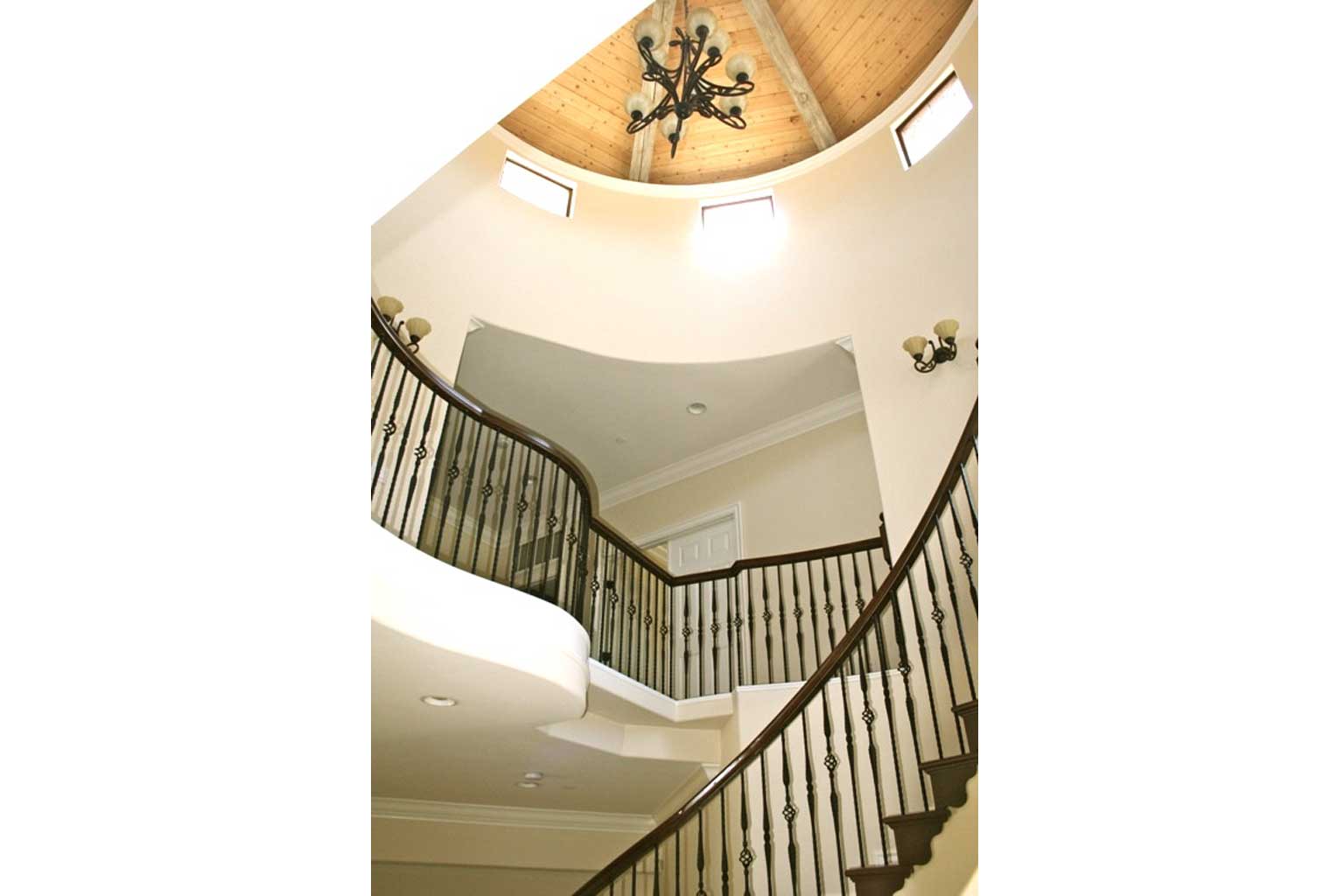 The picture below shows a spacious, warm bathroom, the cherry custom cabinets are accented by mosaic natural stone tiles. The soaking tub and shower has travertine tile all around.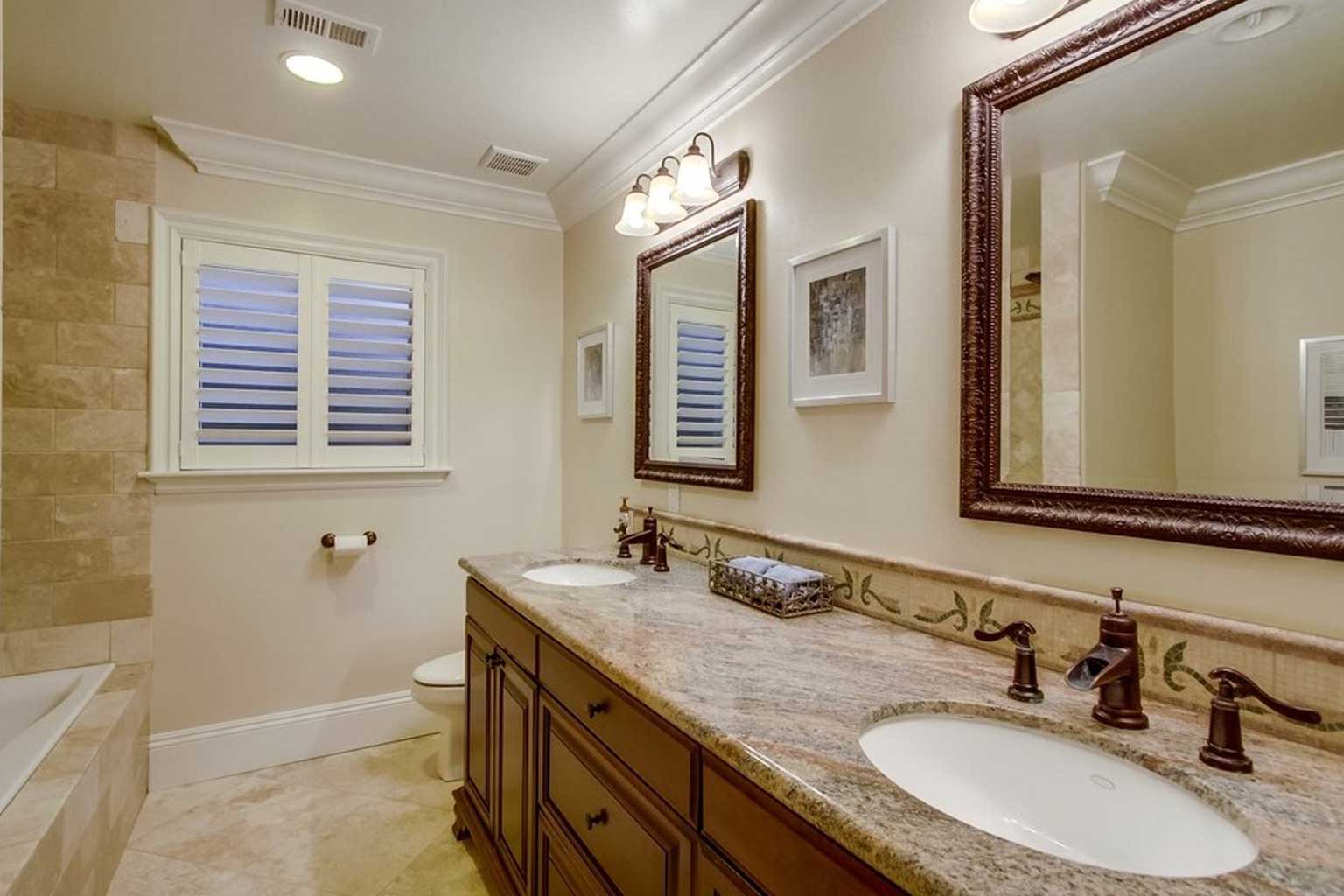 And finally we show a Kitchen addition that features custom glazed cabinets, with granite counter tops.  The stained cherry island adds contrast to the white cabinetry, And the mother of pearl backsplash tile adds a subtle color against the lighter cabinets.
Contact Regal Concepts & Designs today so that we can schedule an appointment to help make your 4S Ranch Remodeling or 4S Ranch New Custom Home Building dreams come true.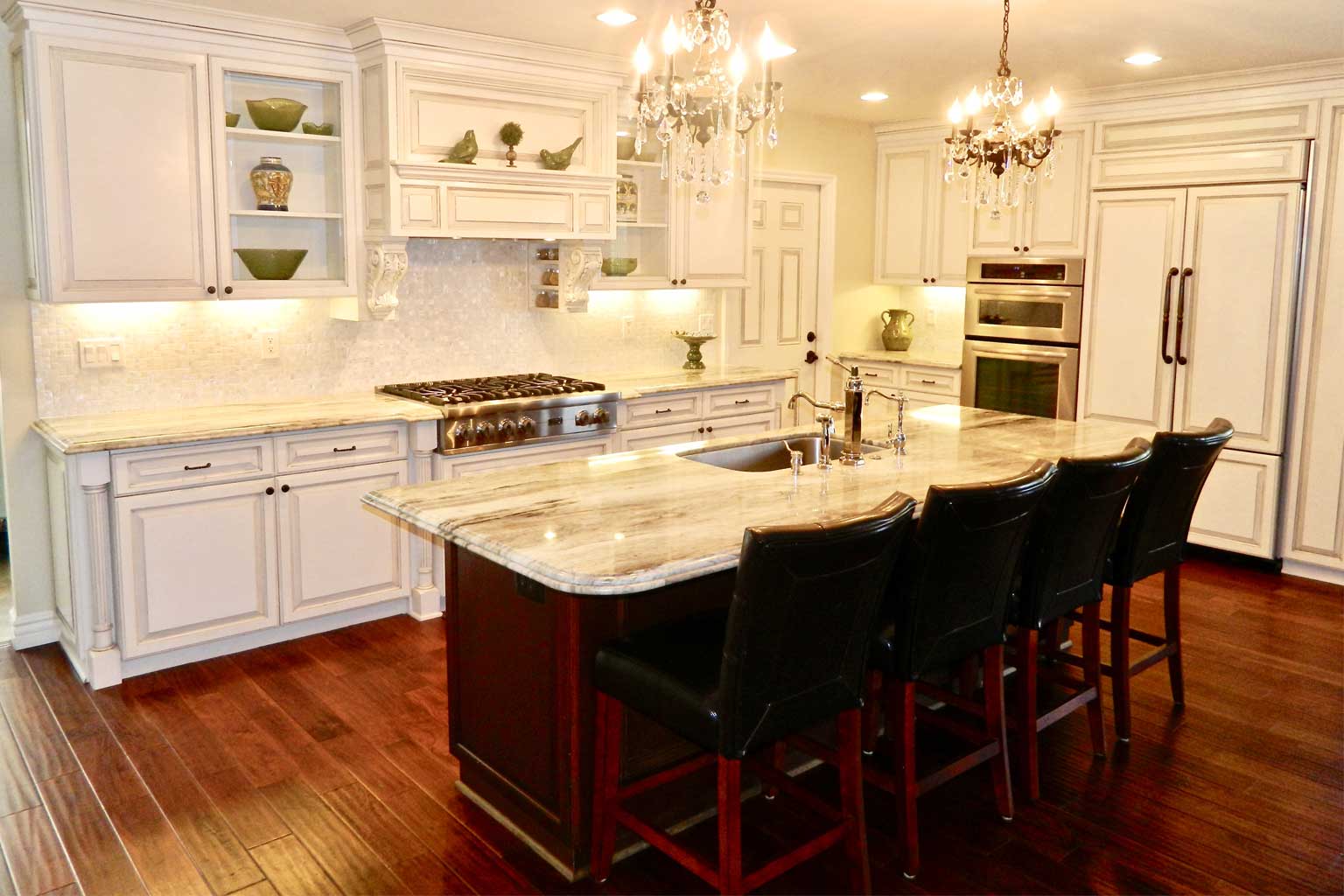 From start to finish it was a wonderful experience. Having been through the home remodel experience previously, we were prepared for the worse. In just a few days of Regal Concepts starting the work we realized how delighted we were in having selected Regal Concepts. Paul and his crew were professional and each one took great pride in his work. Paul was quick to respond to emails and phone calls (even when he was on his honeymoon and out of the country!). We are very pleased with our new kitchen and with all of the work completed by Regal Concepts. We would highly recommend this company based on quality, pricing, and responsiveness. We would use Regal Concepts again without hesitation. Wayne M
The crew was quick but clean.  In fact they cleaned up each night, which was was great!  Now people who come over ALWAYS comment on how exquisite my kitchen and bathrooms are!  I am so happy with the end result that I have recommended him to at least 10 of my friends and family and will continue to do so. Teri M
Paul Lyttle at Regal Concepts, demonstrated a sincere passion for the job. Our thoughts and concerns were thoughtfully considered, and when we did jointly come up with a plan, we had a high level of confidence that our expectations would be met. During the project, workers got to the job site on time. They did their job without being disruptive to our family or neighbors. They cleaned up after themselves. When the materials arrived, you could tell that Regal Concepts took the time to prepare things right and with care. Start to finish, our project took a little over a month to complete. During that time, our household was able to continue to function and we could see our ideas come to life before our eyes. After the job was done, Paul took special care to ensure our goals were met, coming back to the job (cheerfully) to address minor adjustments. We couldn't be happier with our new library. Margaret M
Reserve your consultation with
Regal Concepts and Designs

About Regal Concepts & Designs
Regal Concepts & Designs is a unique full service construction company, established in 1997. Our principle, Paul Lyttle, has over 23 years of extensive construction experience. Paul was formally trained in Ireland and certified by the City and Guilds of London as a Master Craftsman.
CA Lic. #770699