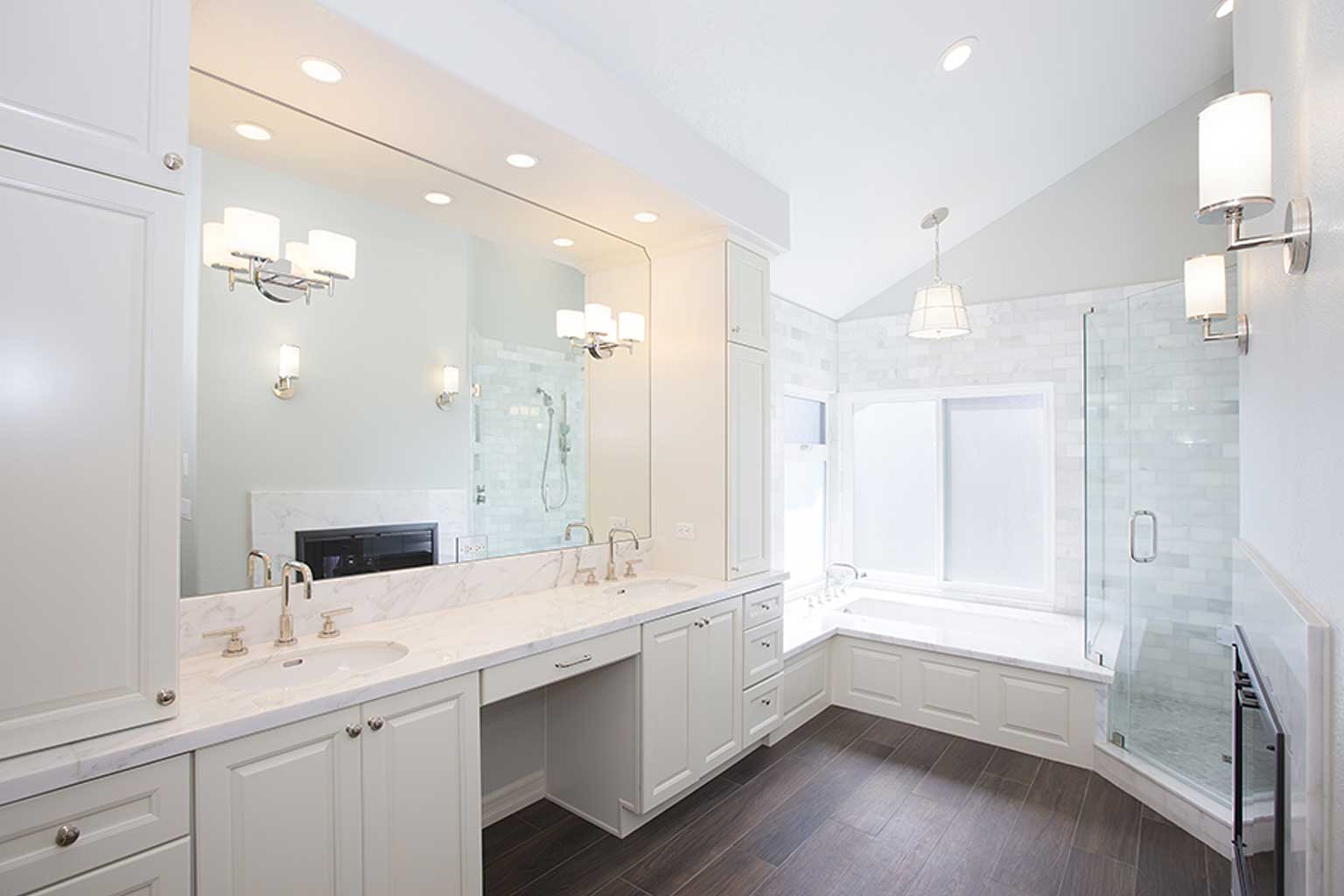 Your bathroom is the place where you start and end your day. You'll want a space that is stylish and efficient, but also feels comfortable and luxurious. At Regal Concepts & Designs, we hard work to find what is best for your personal space. This might mean a simple pull and replace or we can reconfigure floor plans, move walls, fixtures, and utilities to increase floor area and storage space.
So, when it comes to planning for a bathroom remodeling project, there are a lot of things to consider so that it will become a room where everybody will feel comfortable and welcome.
At  Regal Concepts & Designs, we want your remodeled kitchen to be a perfect combination of good looks and effective functionality.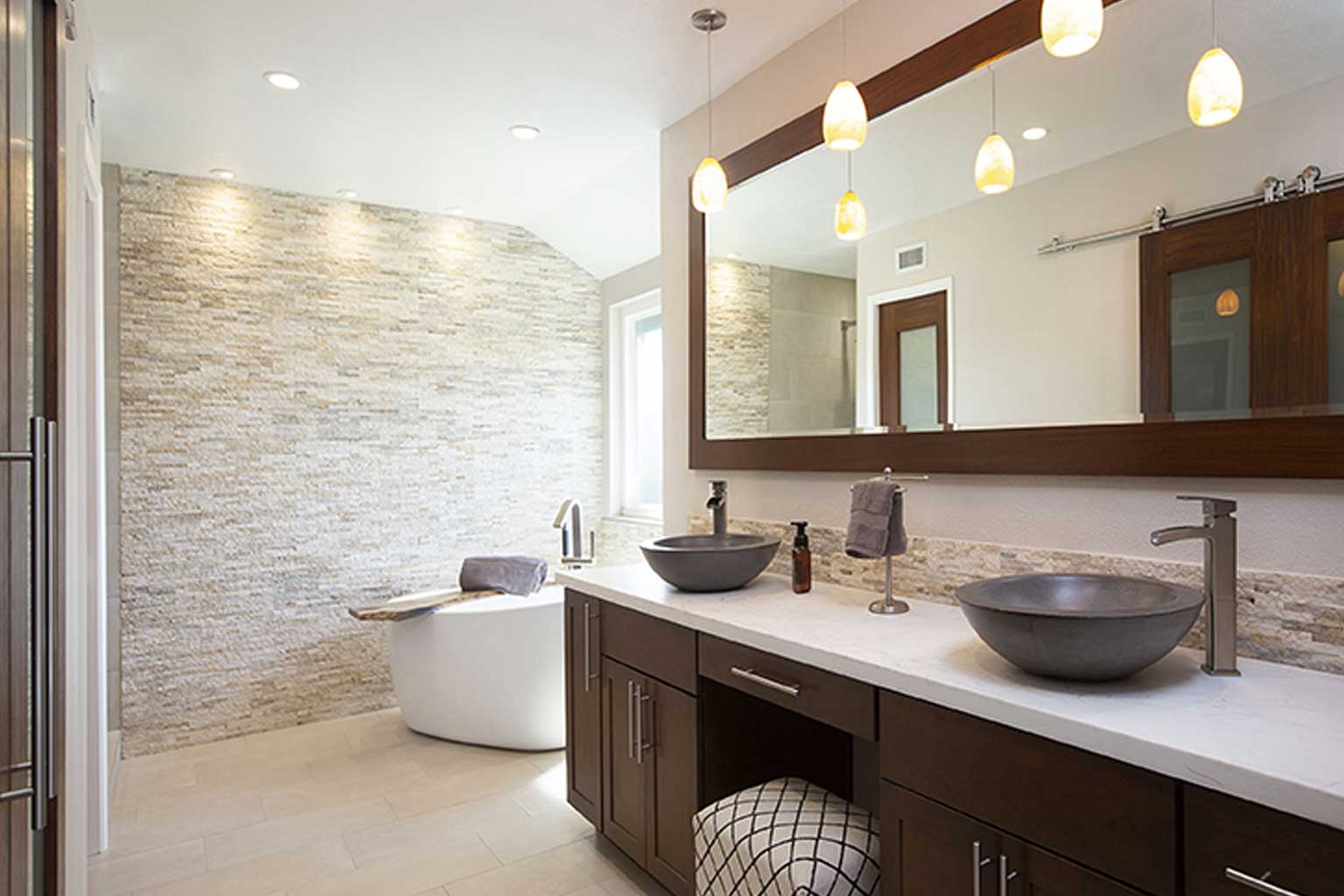 The picture on the top of this page features an integrated under-mount tub and shower, with the marble surround flows together with the white cabinets.  The Calcutta Marble counters to give a peaceful retreat. Obscure windows provide a soft diffused light that enhance the tranquility of this serene bathroom.
And the picture immediately above this section shows the free standing tub, with natural stone accent walls.  The enhanced accent lighting creates a truly zen sanctuary to relax.  The heated flooring provides a cosy warmth on the colder days.
In the pictures that follow, you will find a few different styles of bathroom remodeling projects.
The first one has an inviting large walk in shower featuring two separate shower areas.  The copper surround soaking tub is overlooking the unobstructed beautiful views which gives a resort feeling to this elegant bathroom.   The warm tones of Natural stone and the custom carved cabinets enhance the feeling of serenity in this graceful Master Suite.
And then is bathroom with the onyx tile which adds warmth and dimension.  The copper accent tile adds a bold contrast that enhances the shower and Lapidus Granite counter tops.  The custom glazed cabinets with Dental crown molding give a timeless beauty to this stunning new bathroom.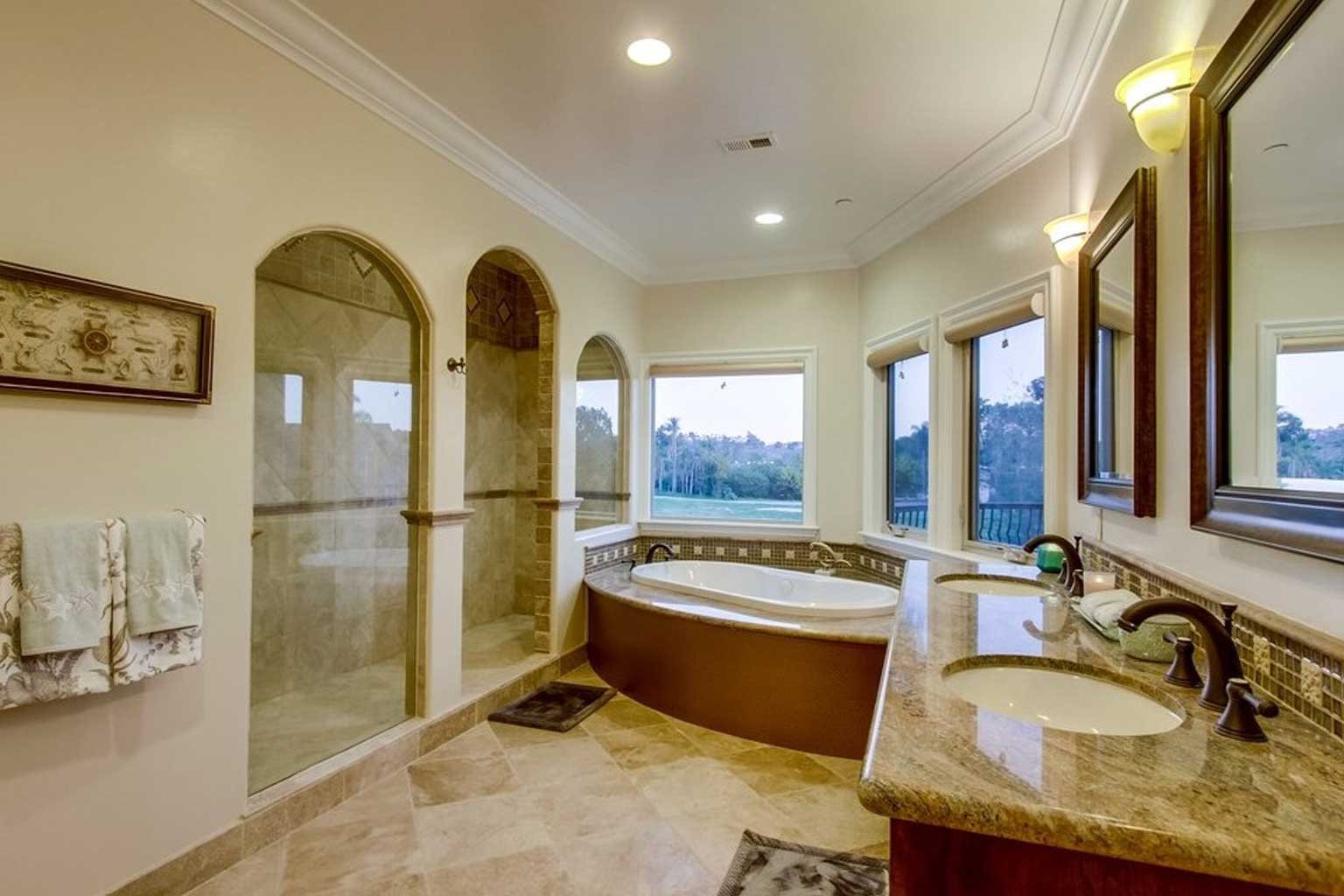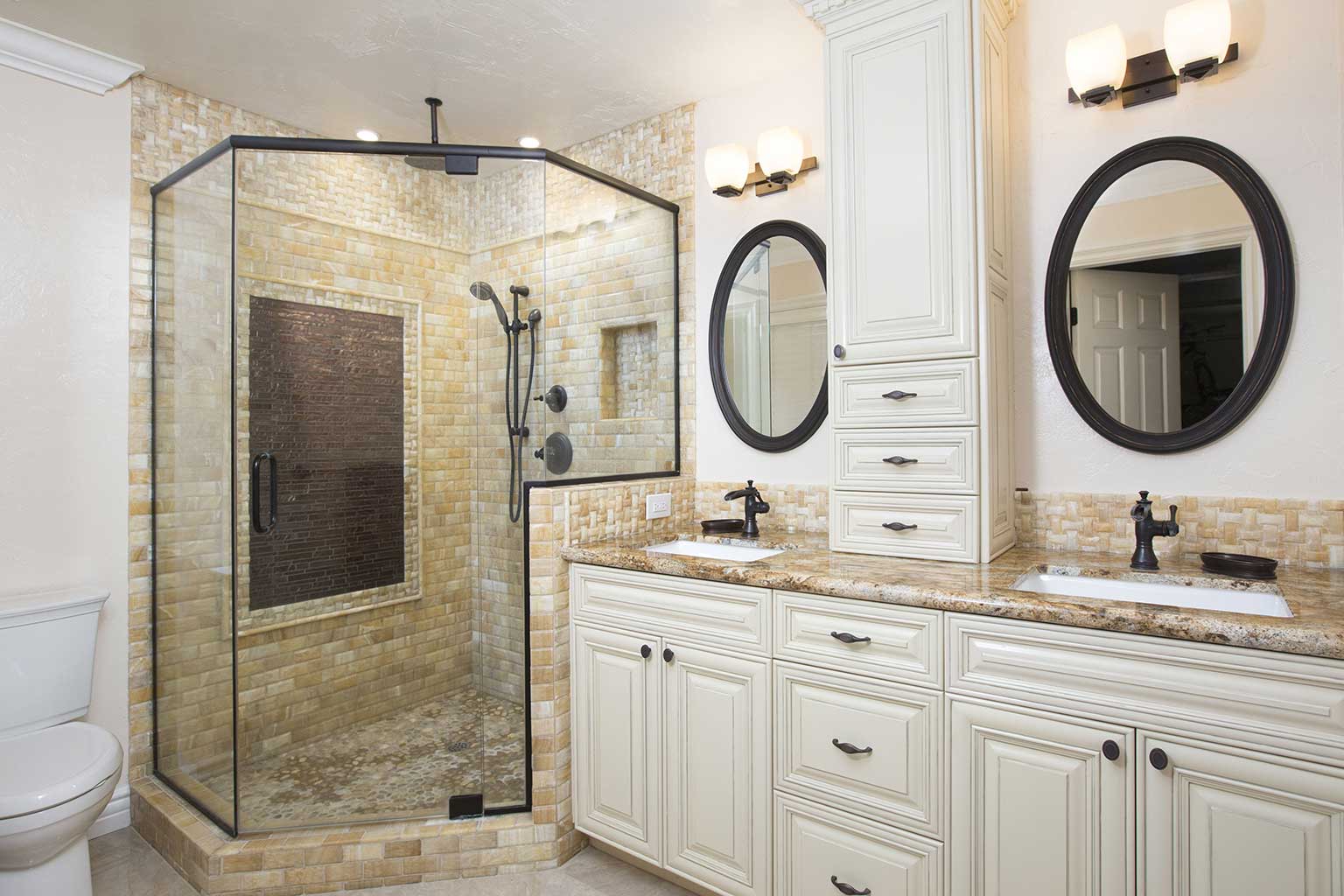 Bathroom remodeling is one of the more comforting changes in every home. It reflects the homeowner's needs, style, and wishes. The perfect bathroom remodel project has a well-balanced design so it fits everyday usage.
In this next bath remodel project, we show an integrated tub and shower.  They flow together with color and detail from the tile all around, blending with the fireplace.  The warm tones of of the custom Cabinetry blend perfectly with the natural stone to make this tranquil Bathroom a sanctuary to escape to.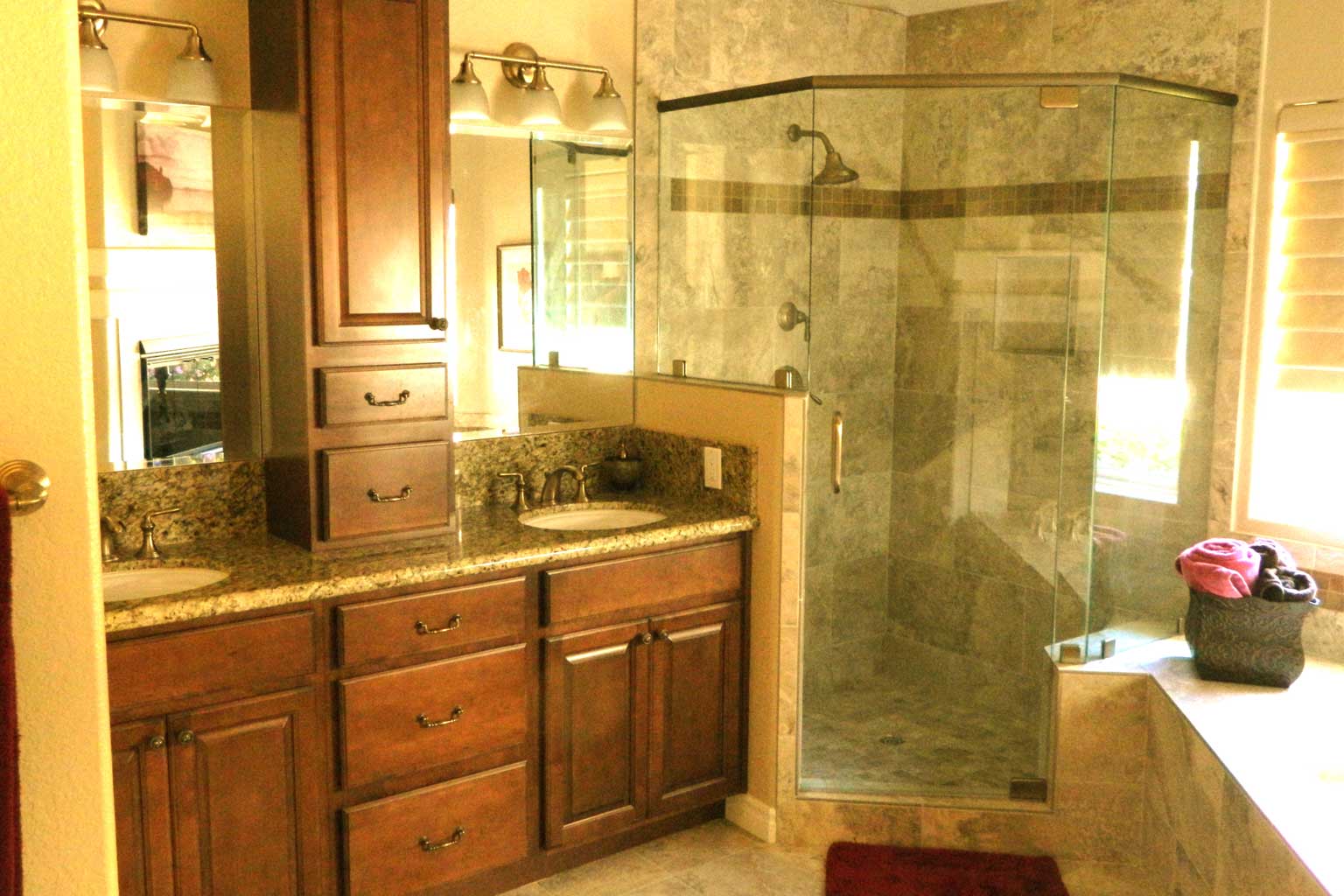 As this was my first renovation experience, I had some trepidation.  I had heard horror stories from neighbors about contractors disappearing after they began work or not completing the work accurately or in a timely fashion.  But we had a great experience working with Paul.  From the beginning of the process, Paul's first concern was to make us happy and to do the project as we wanted.  Not only was the work scheduled on a daily basis until it was completed, but Paul was also very responsive to all questions and concerns we had.  Calls and emails were returned immediately, and if a site visit was required he was there the same day.  His crew spoke very highly of him and love working for him, which, to me, speaks volumes about his integrity.  All members of his team are highly skilled and very professional.  Carlos, who did the tile work, is a master craftsman, and Tony, who did the majority of the plumbing, light installation, demo and cabinet placement, excels at everything.  The crew always arrived on time, and I loved that they cleaned up every single day.  Over the course of a couple of months, our bathrooms were transformed from outdated, ugly spaces into beautiful, peaceful, spa-like rooms.  At completion, there were no major issues — everything was installed correctly and worked the way it should.  Paul Lyttle and his team at Regal Concepts & Designs do superior quality work, and I highly recommend
this company. Rachel B
I selected Paul and Regal Concepts to remodel my bathroom for three reasons – first, he was the most prompt and easy-to-get-a-hold-of contractor I contacted for a quote. Second, his quote was within my budget range. And finally, my house is older (1949), and he was very knowledgeable of the possible old house issues that might arise, giving me the confidence that he knew what he was doing and would do a quality job. Paul and his team did a fantastic job. The new plumbing and fixtures all work great, the tile work was beautifully done, and the project was even finished ahead of the quoted schedule. As a convenience to me, the team was obviously conscientious about keeping my house clean while they worked, and I really appreciate the fact that they re-installed the toilet at the end of each work day, since this is the only bathroom in the house!
All in all, Paul made my bathroom remodel very easy for me, and I would recommend Regal Concepts to anyone considering a bathroom or kitchen remodel. Kathryn M
We love the gourmet kitchen, the renovation of the original space and the new bathroom. It was a great experience. We had never gone through anything like this before and we are so grateful for Paul's knowledge and suggestions for a wonderful outcome. Except for the changes we asked for, Paul held to his cost structure and the project was done within budget. Without hesitation we would recommend Regal Concept and Designs." Dawn C
Reserve your consultation with
Regal Concepts and Designs

About Regal Concepts & Designs
Regal Concepts & Designs is a unique full service construction company, established in 1997. Our principle, Paul Lyttle, has over 23 years of extensive construction experience. Paul was formally trained in Ireland and certified by the City and Guilds of London as a Master Craftsman.
CA Lic. #770699