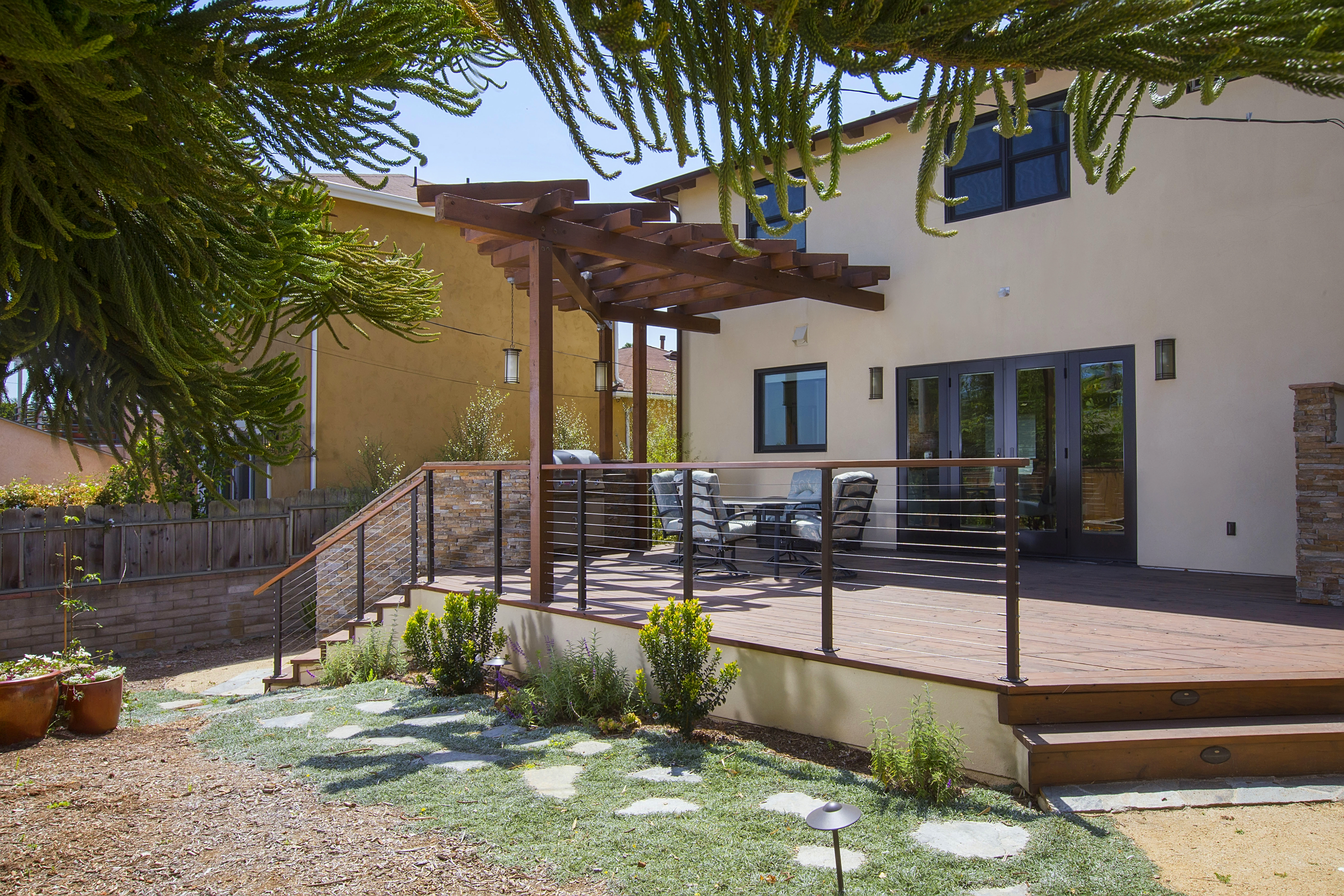 Whether you have an older home that you'd like to modernize or add to with an addition or second story, or perhaps build a new custom home in Rancho Bernardo, Regal Concepts is the local company we wish you to consider partnering with.
Located in North County, Rancho Bernardo is a thriving community, with a top notch school district, booming restaurants and many beautiful hiking trails. Close to the 15 freeway, it has great access to day trips to wine vineyards, Julien, or downtown San Diego and the beaches. A wonderful place to live, with a close knit community.
To learn more about this beautiful place to live, we encourage you to visit the city of Rancho Bernardo website.
When it comes to planning for a remodeling project or building a new home, there are a lot of things to consider. At Regal Concepts & Designs, our team of skilled professionals is here to help you create a home that fits your family and your lifestyle. We understand that remodeling and custom home building are big projects, and we'll do our best to make it as fun and stress-free as possible, so that you can come home to a house you love.
At  Regal Concepts & Designs, we want your remodeled or expanded Rancho Bernardo house, or new Rancho Bernardo custom home to a perfect combination and reflection of your dreams.
The picture on the top of this page features a stunning outdoor living space. The heavy cedar beams frame the wood stained decking, and the stone masonry walls create a unique relaxing space to appreciate our beautiful southern California weather.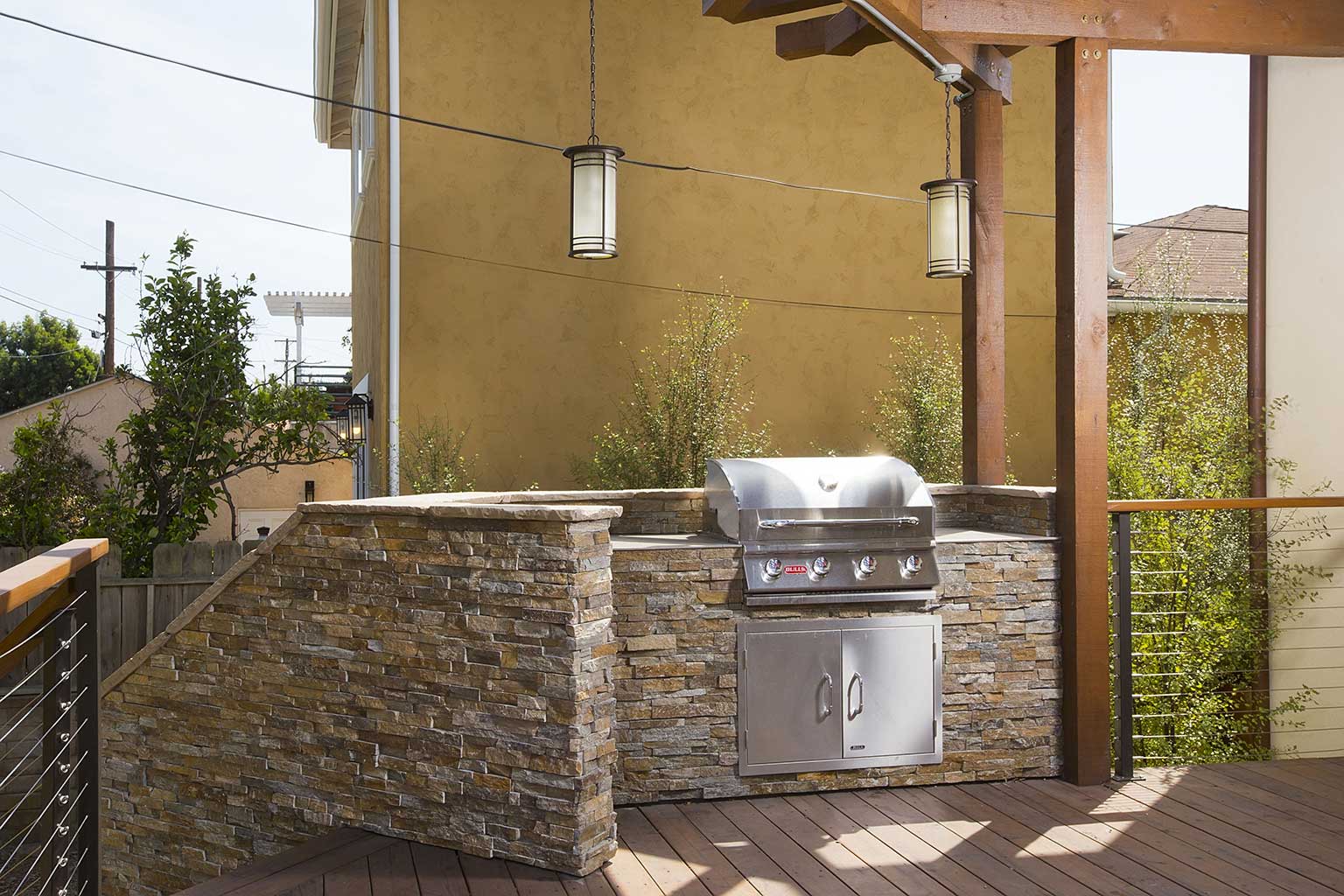 And the picture immediately above shows the same deck showing the custom built BBQ Island, the warn rich color of the beams, perfectly flows with the masonry walls, and the cable railings, allow a seamless flow with the beautiful landscaping
The next picture shows a contemporary style kitchen, with maple custom cabinets, Granite counter tops, full height backsplash with glass accents. A beautiful striking kitchen that is warm and a gathering place for the family.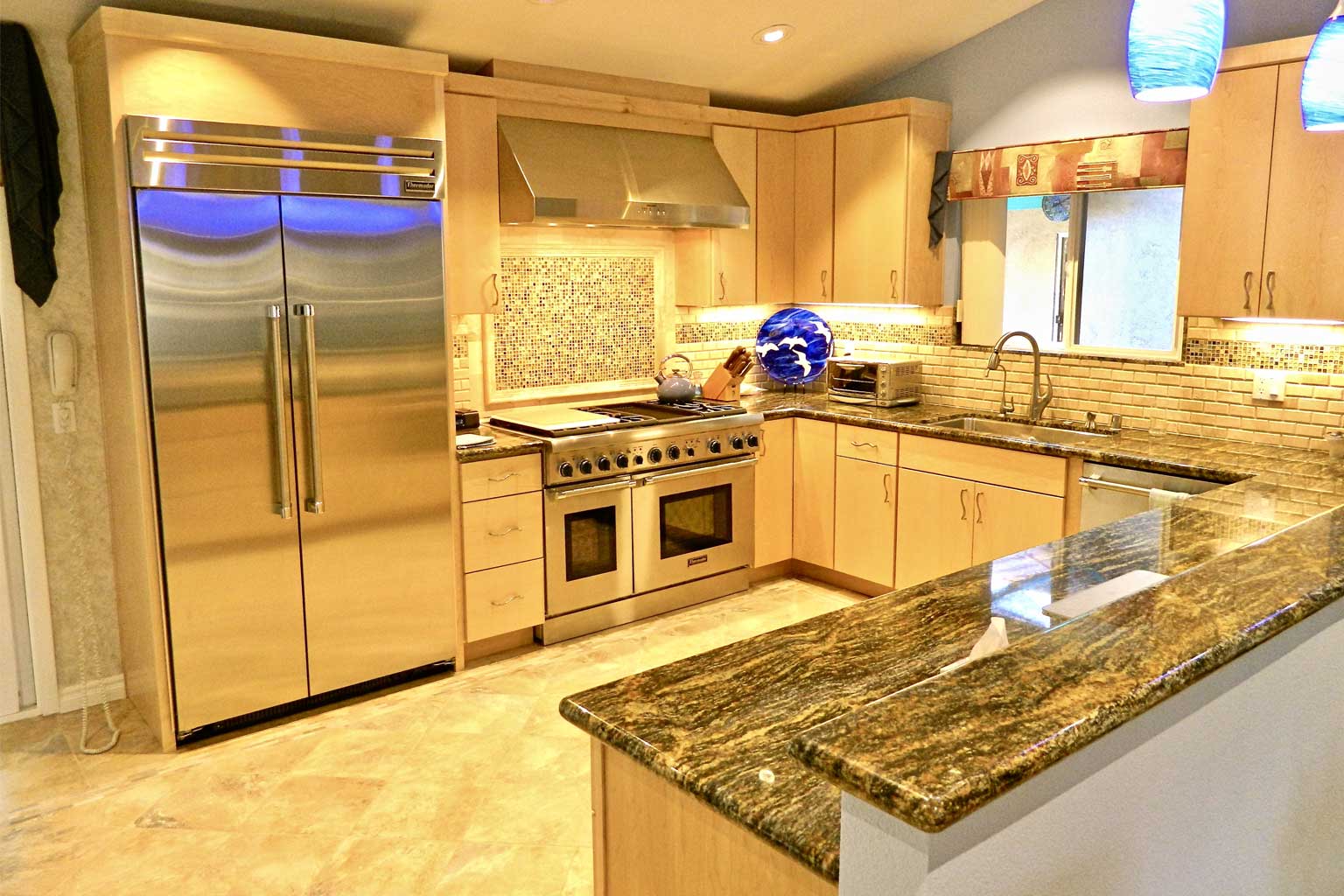 The picture below shows an exquisite shower featuring Onyx natural stone tile. The Onyx tile is accented by copper glass tiles and basket weave mosaic tiles. The contrast brings out the natural beauty of the stone creating a unique, spectacular bathroom.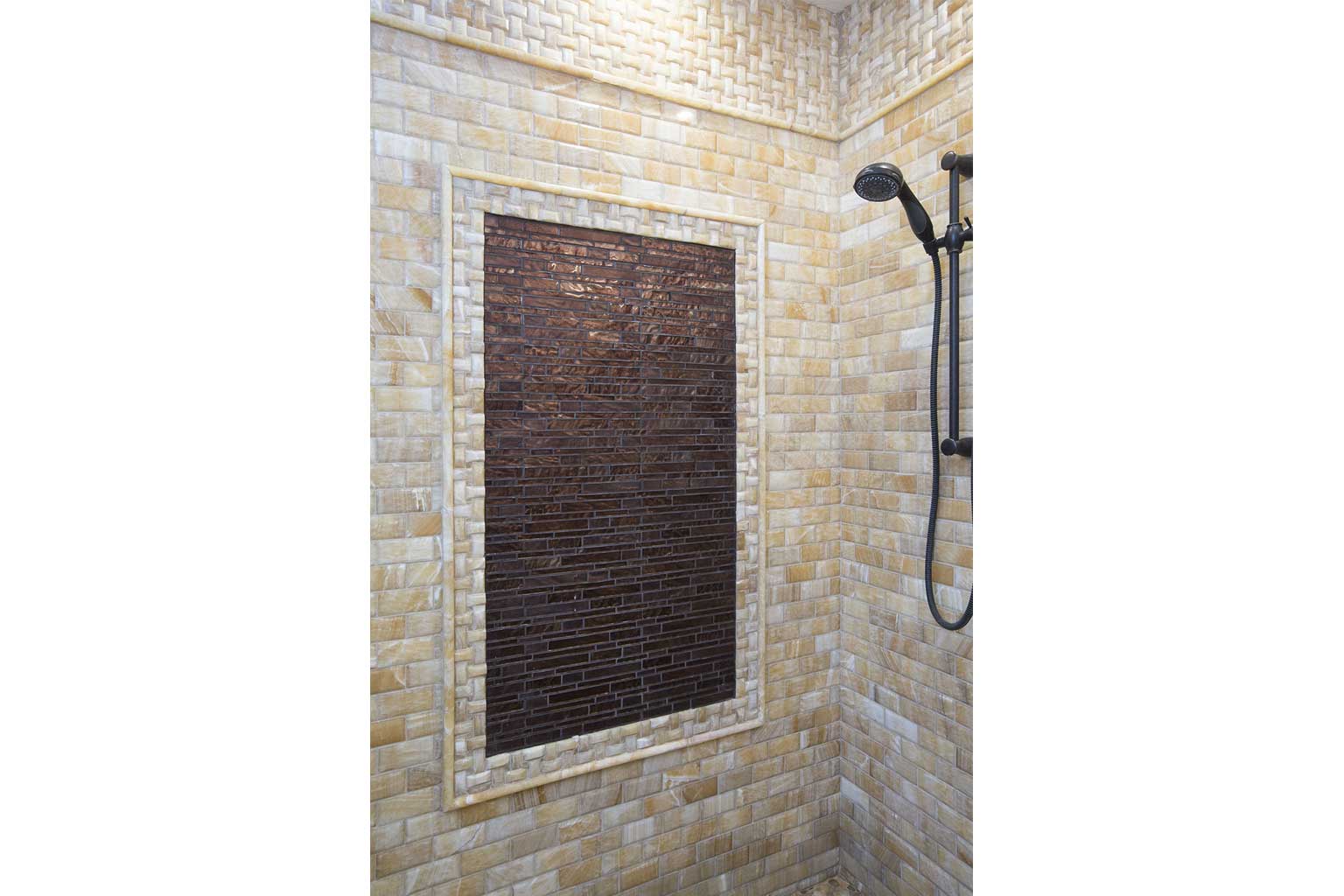 And finally we show an alluring fireplace, featuring stone masonry, accented by a custom built cherry mantle stained in Rosewood, with a Lapidus Granite Hearth top. The contrast of the asymmetrical Stone, with the finished Cherry mantle and the Granite hearth, makes this an elegant centerpiece of the room.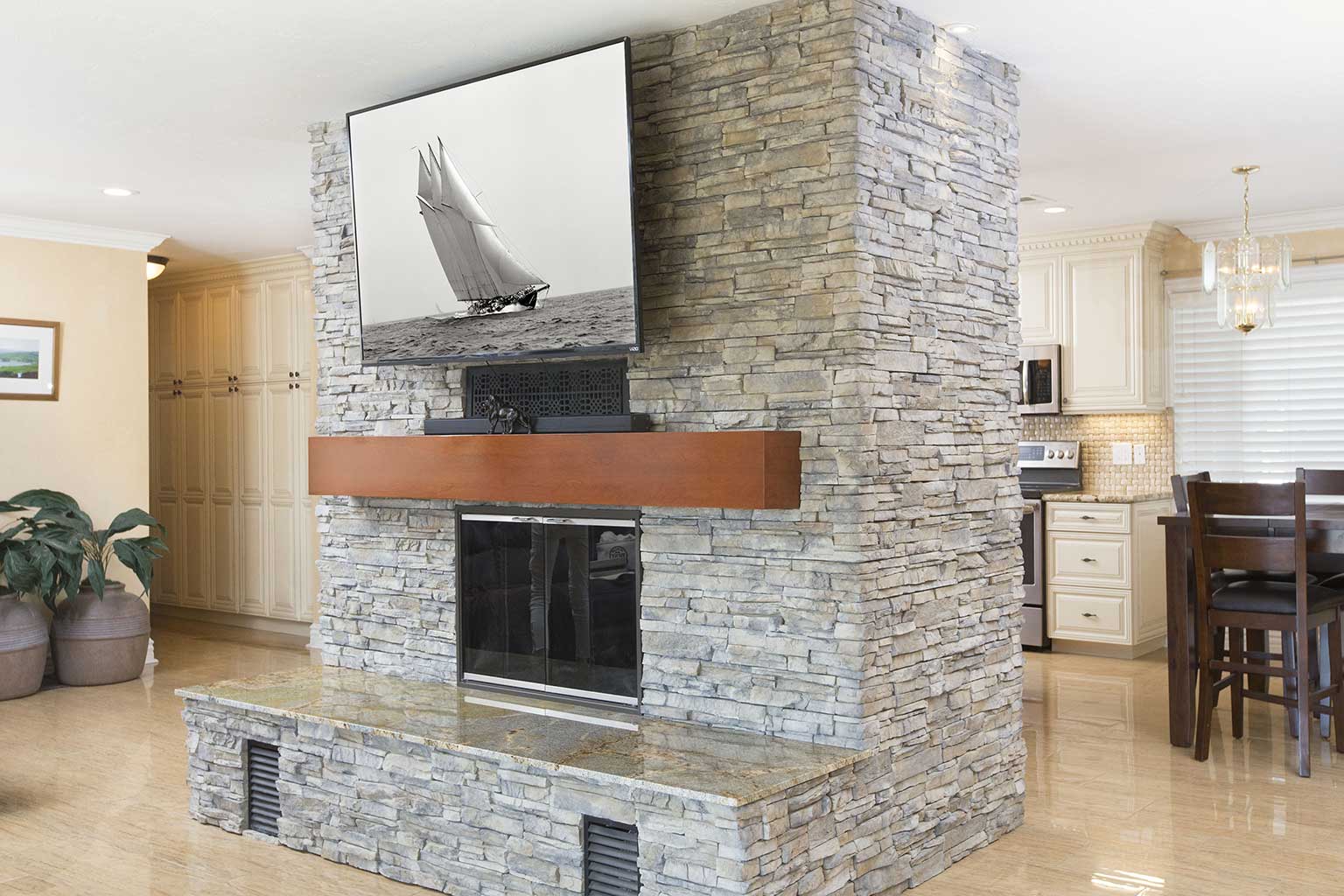 Contact Regal Concepts & Designs
 today so that we can schedule an appointment to help make your Rancho Bernardo Remodeling or New Custom Home Building dreams come true.
As this was my first renovation experience, I had some trepidation. I had heard horror stories from neighbors about contractors disappearing after they began work or not completing the work accurately or in a timely fashion. But we had a great experience working with Paul. From the beginning of the process, Paul's first concern was to make us happy and to do the project as we wanted. Not only was the work scheduled on a daily basis until it was completed, but Paul was also very responsive to all questions and concerns we had. Calls and emails were returned immediately, and if a site visit was required he was there the same day. His crew spoke very highly of him and love working for him, which, to me, speaks volumes about his integrity. All members of his team are highly skilled and very professional.
The crew always arrived on time, and I loved that they cleaned up every single day. Over the course of a couple of months, our bathrooms were transformed from outdated, ugly spaces into beautiful, peaceful, spa-like rooms. At completion, there were no major issues — everything was installed correctly and worked the way it should. Paul Lyttle and his team at Regal Concepts & Designs do superior quality work, and I highly recommend this company.
We had a very outdated kitchen with horrible fluorescent lighting, pink tile/countertops and cheap laminate cabinets. We love to cook and entertain, so wanted to open up the kitchen to the family room/bar area, and make room for an 8 burner Viking range. While existing electrical and plumbing prevented us from fully opening up to the family room/bar area as hoped, the pass through we were able to get works wonderfully and I think the change in design helped to define the kitchen as a separate work area.
Paul and his team were great. They showed up promptly each morning and cleaned up each evening. We did have some unexpected issues, but with a remodel of this size we figured this would be the case. Paul was able to offer us viable options, and the end result is spectacular.
We are very pleased with the work that was done and plan to use him again for another project.
The entire project went very well and my husband and I are now enjoying a beautiful new kitchen. Paul was very professional and his crew was easy to have in my home. Paul listened to what we wanted to do and was very helpful when we needed guidance.
They were always punctual and Paul was pretty accurate with the amount of time it took to complete. He was willing to work with us and get the job done on our time schedule. He also wanted to make sure the job was done correctly, which it was. They were very good about keeping the area tidy by cleaning up at the end of each work day. They were also good with hauling out the rubbish that was created with a kitchen re-model. Paul was good with returning calls and e-mail promptly when I had questions and concerns with the project. Paul and his crew were considerate of my neighbors which was appreciated too.
Reserve your consultation with
Regal Concepts and Designs

About Regal Concepts & Designs
Regal Concepts & Designs is a unique full service construction company, established in 1997. Our principle, Paul Lyttle, has over 23 years of extensive construction experience. Paul was formally trained in Ireland and certified by the City and Guilds of London as a Master Craftsman.
CA Lic. #770699