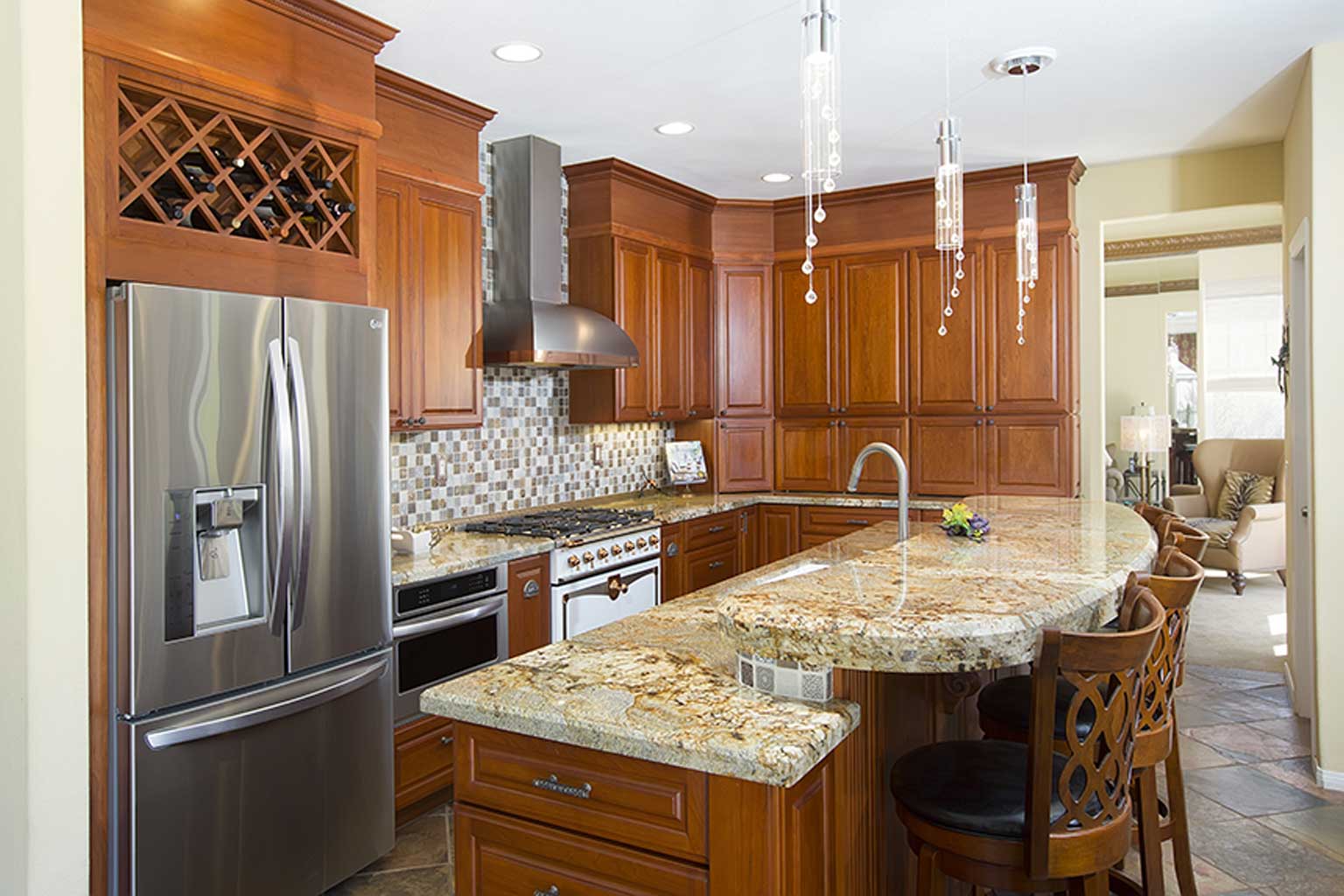 Over the years, the kitchen has gained popularity as the central, most important room in any home. It enjoys, in most cases, round the clock patronage. Starting from a very early morning breakfast to a late-night snack. The kitchen is a loyal witness to any drama in life. Whether preparing an important meal for a client or family, surprising a loved one on a special occasion or making a special dinner for the grandchildren, the kitchen is always there.
So, when it comes to planning for a kitchen remodeling project, there are a lot of things to consider so that it will become a room where everybody will feel comfortable and welcome.
At Regal Concepts & Designs, we want your remodeled kitchen to be a perfect combination of good looks and effective functionality.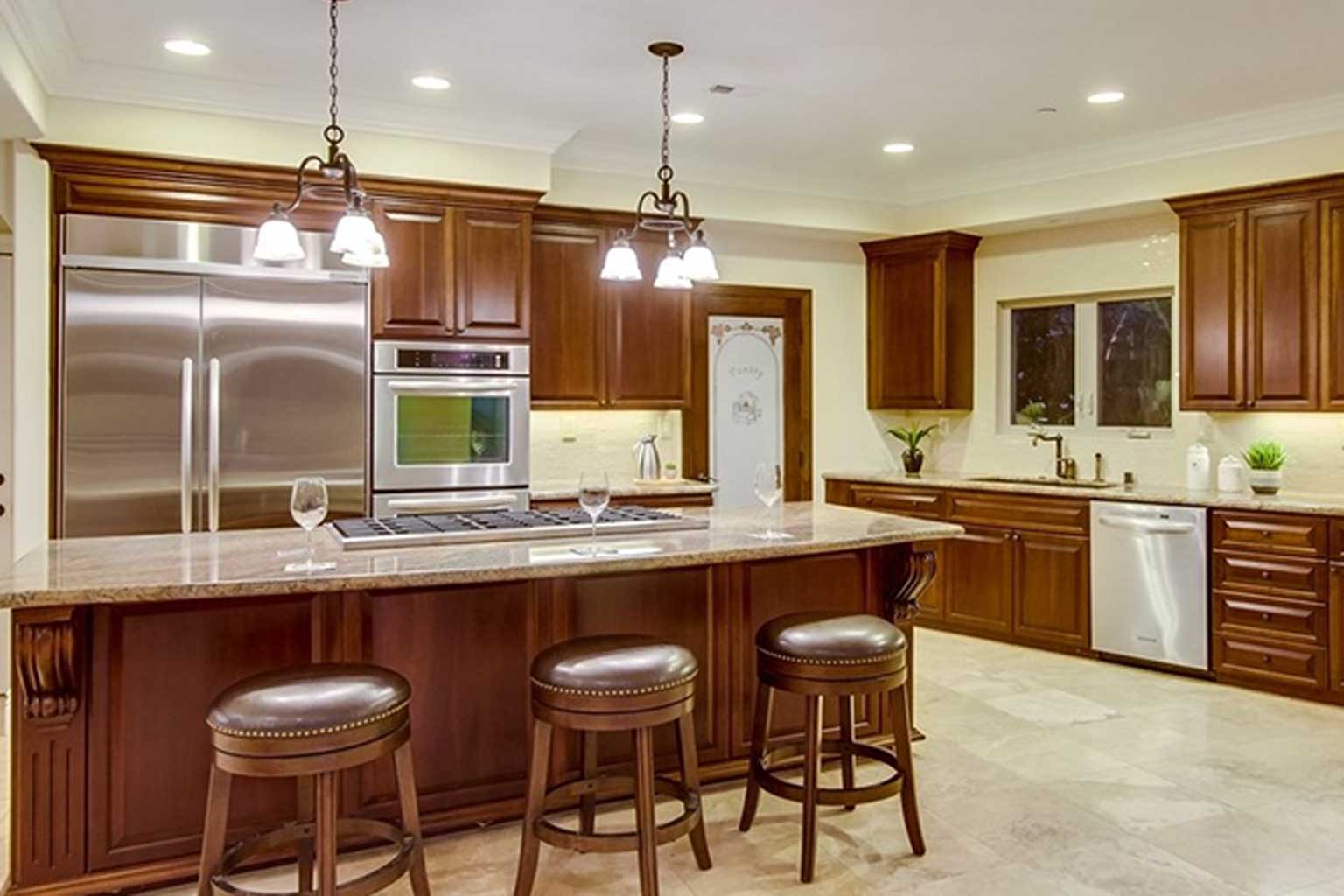 The picture on the top of this page features stunning Cherry Rosewood stained cabinets. Granite counter tops with a raised central bar height counter top allow for the whole family to gather around. The full height upper cabinets allow all counter appliances to be concealed, yet still easily used. The full height mosaic backsplash compliments the Bluestar stove.
And the picture immediately above this section shows a large open layout, cherry cabinets with granite counter tops. The large curved island allows the family to gather around. The custom woodwork of fluted panels and carved corbels gives a furniture look to the island. The huge walk in pantry provides a significent amount of additional storage.
In the pictures that follow, you will find a few different styles of kitchen remodeling projects.
The first one is of raised panels with glazing that add a lot of detail to a traditional style of kitchen. The granite island is stunningly contrasted against the Quartz counter tops in the rest of the kitchen. The custom hood is framed by lighted glass cabinets, which is perfectly complemented by the herringbone glass mosaic tile behind the cook top. The built in subzero fridge, has panels that match the cabinetry, allowing it to flow with the kitchen.
And then is glazed white cabinets paired with the cherry rosewood stained island, giving each a warm contrast. The 11 feet long island provides a significant amount of additional workspace and has cabinets all around, more than doubling the amount of cabinet storage.
The basket weave backsplash adds a lot of dimension and accents the cabinets and Lapidus granite perfectly.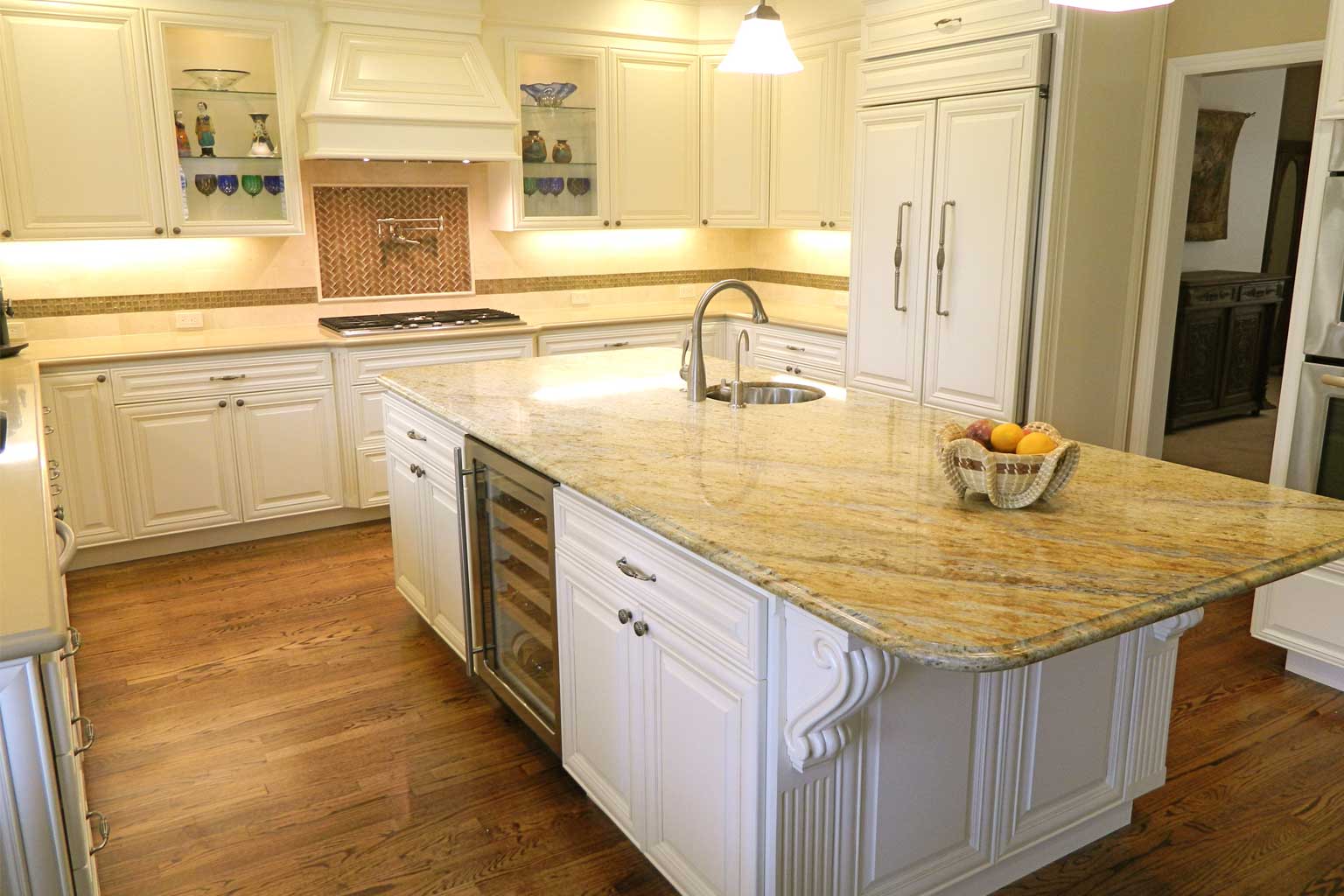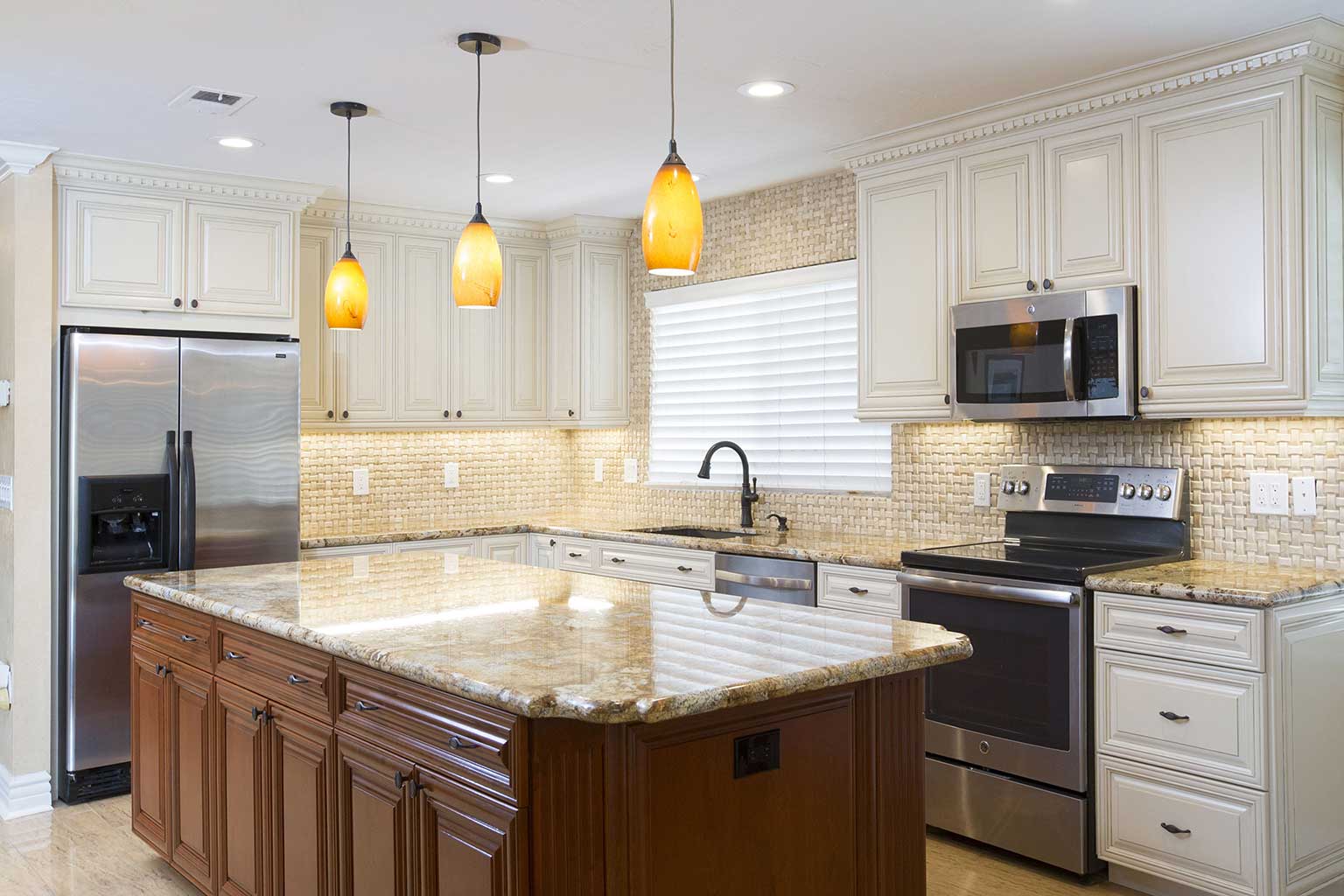 Kitchen remodeling is one of the biggest and most important changes in every home. It reflects the homeowner's dreams, needs, style, and wishes. The perfect kitchen remodel project has a well-balanced design so it fits everyday usage.
In this next kitchen remodel project, we show a galley style kitchen with shaker cabinets and quartz counter tops, contrasted with the warm natural stack stone backsplash. The Floating shelves add a rustic traditional aspect that ties in with the furniture in the house.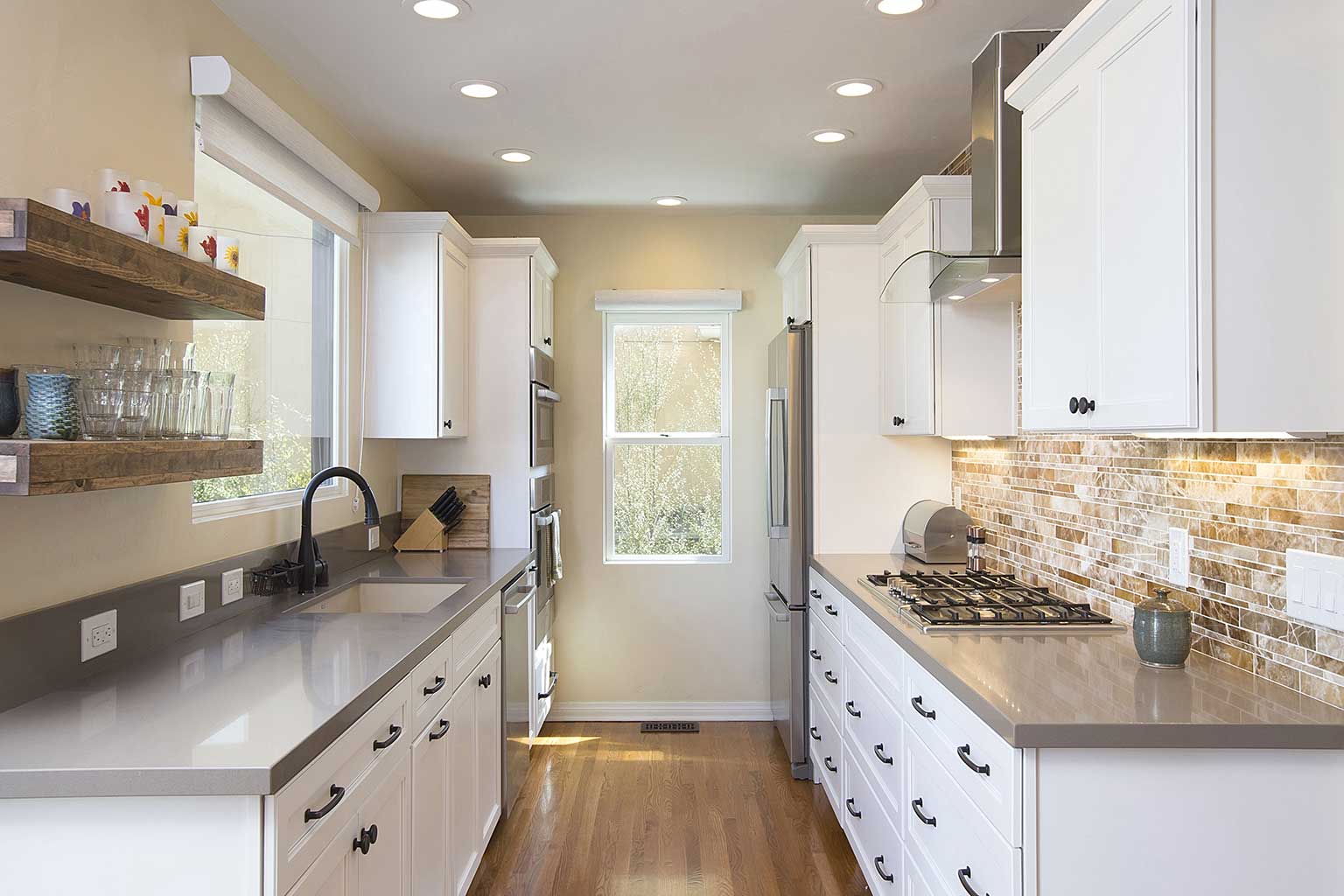 We are at the very end of a full remodel of our kitchen. We picked Regal for several reasons. First, we knew a friend who had Regal remodel her kitchen and she was very pleased. Second, Paul's bid was reasonable considering that a different company had bid the job $35,000 dollars higher and a third bid was around Paul's price, but our friend's recommendation and our initial meeting with Paul sealed the deal. His bid was clear and covered all of the items we wanted replaced. His crew was friendly, efficient, and worked diligently. They protected the area with heavy paper with heavy cardboard on top. The kitchen was demo'd in a day! The best thing about working with this company is the quality of work and the attitude of Paul and his crew. They all really want you to be left with an excellent product and if changes come up, they are very willing to work with you to get the changes accomplished. Paul was excellent at listening to any changes we brought up and then explaining the pluses and minuses of doing the change. We are just ecstatic about our new kitchen. It is so beautiful with deep cherry wood cabinets, exotic granite, and great crown molding. The kitchen is a warm, gorgeous, inviting area in our house now, thanks to Paul. We are extremely pleased with the project and would like to express our gratitude to Paul and his crew for making it happen.
We love the gourmet kitchen, the renovation of the original space and the new bathroom. It was a great experience. We had never gone through anything like this before and we are so grateful for Paul's knowledge and suggestions for a wonderful outcome. Except for the changes we asked for, Paul held to his cost structure and the project was done within budget. Without hesitation we would recommend Regal Concept and Designs.
Paul and his team were on point! Easy to deal with, pleasure to work with. After meeting with six different contractors Paul was the only one that was listing to what I wanted and also thinking outside the box. He and his crew gave me honest input and helped steer me in the right direction when I would let one of my crazy ideas get the best of me. Complete kitchen remodel took about 2 months and a week. Paul was on site everyday, his crew never missed a day. His companies that he used for the cabinets and granite fabrication were awesome also. I could continue all day with how pleased I and my family are, but you get the picture.
A+, 100%, Fireworks! Call them! You'll see!
Reserve your consultation with
Regal Concepts and Designs

About Regal Concepts & Designs
Regal Concepts & Designs is a unique full service construction company, established in 1997. Our principle, Paul Lyttle, has over 23 years of extensive construction experience. Paul was formally trained in Ireland and certified by the City and Guilds of London as a Master Craftsman.
CA Lic. #770699